Tability on the go! A few ways you can bring Tability on your morning commute
We're going mobile! Here are a few things you can do in Tability, while you're on your way to the office (or home office!)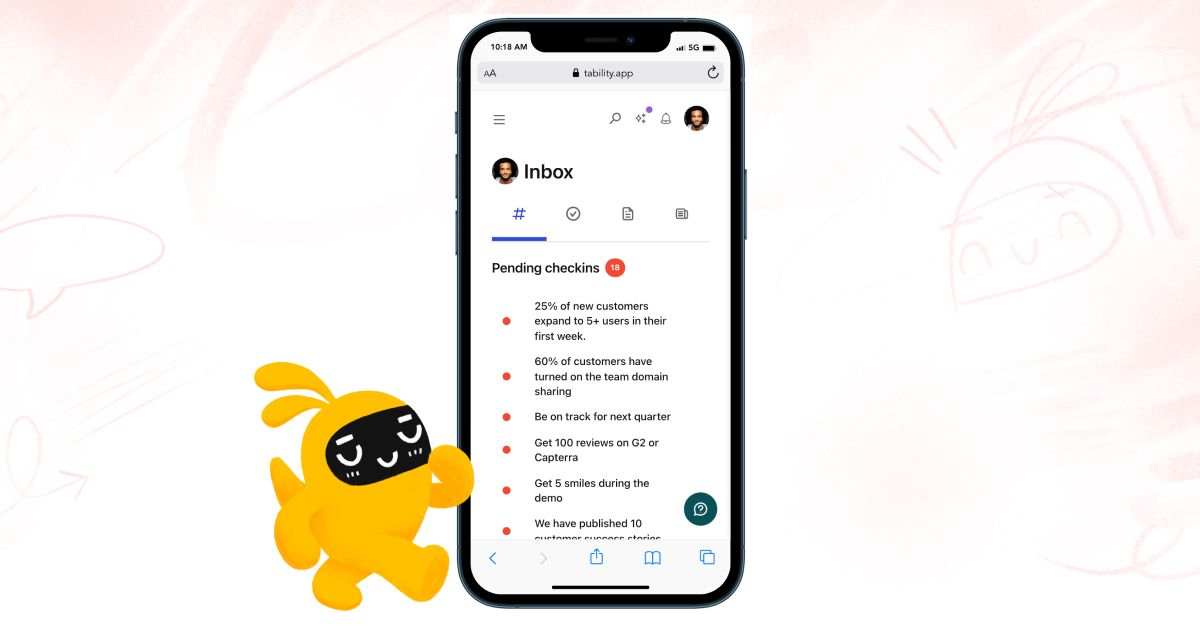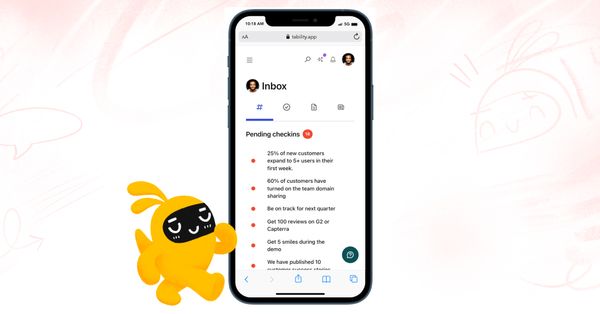 If you haven't heard yet, we've added two software engineers to the team in the past month! Sashi and Riley are going to be helping us build and improve the platform faster than we ever have before; so expect a lot of new features in the coming days!
First of those improvements is making Tability more mobile responsive. It's long over due, but we're super excited about the new ways you'll be able to interact with the app and how you'll be able to track your business metrics on the go.
We're not there yet, but we're going screen by screen to get Tability working to make it 100% mobile friendly. Until then, I'll go over a few amazing things that you can do right now on your morning commute.
1. Update your Outcomes and Tasks from anywhere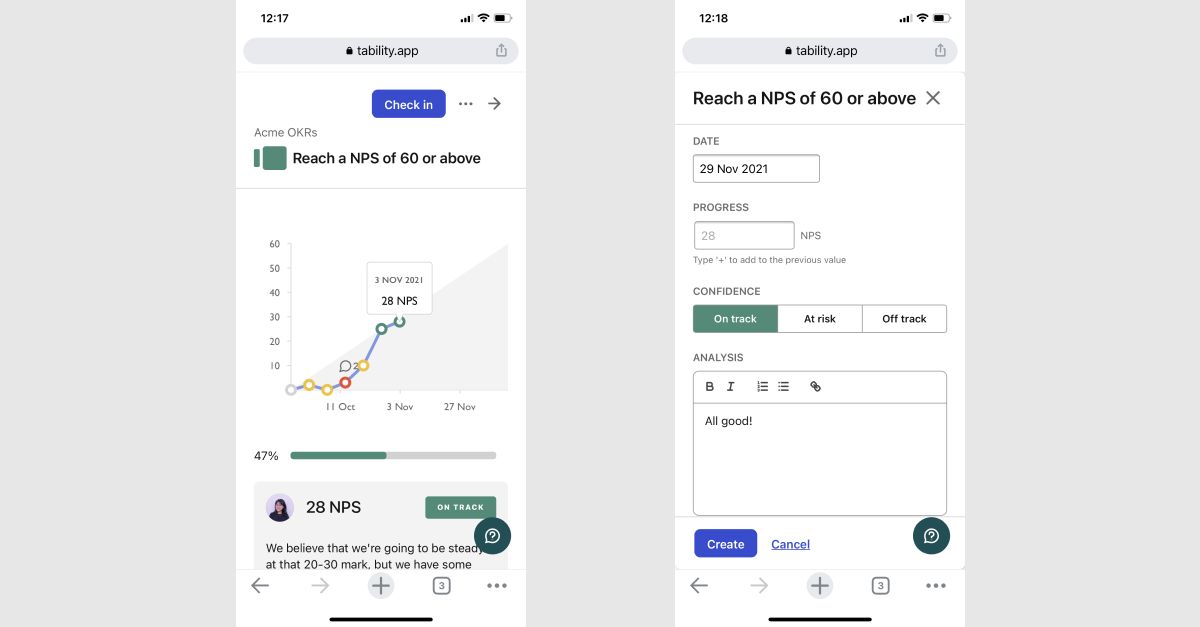 Whether you're riding the bus, carpooling with coworkers, or walking from your bedroom to the computer room, you can now add your latest updates while on the go.
When you log into Tability, you'll be dropped into your Inbox where you'll be able to see all your actions right here. It's broken up into 4 tabs: Your outcomes, your tasks, your reviews, and newsfeed (just like on desktop! but with icons!). Check the Outcomes tab for all your Check-ins you need to make, the tasks view for any outstanding to-do items.
This is your mobile hub for what you need to take action on, and it's a great way to get caught up and back into your work after a relaxing, unplugged weekend.
2. Scroll through some latest company activity with Newsfeed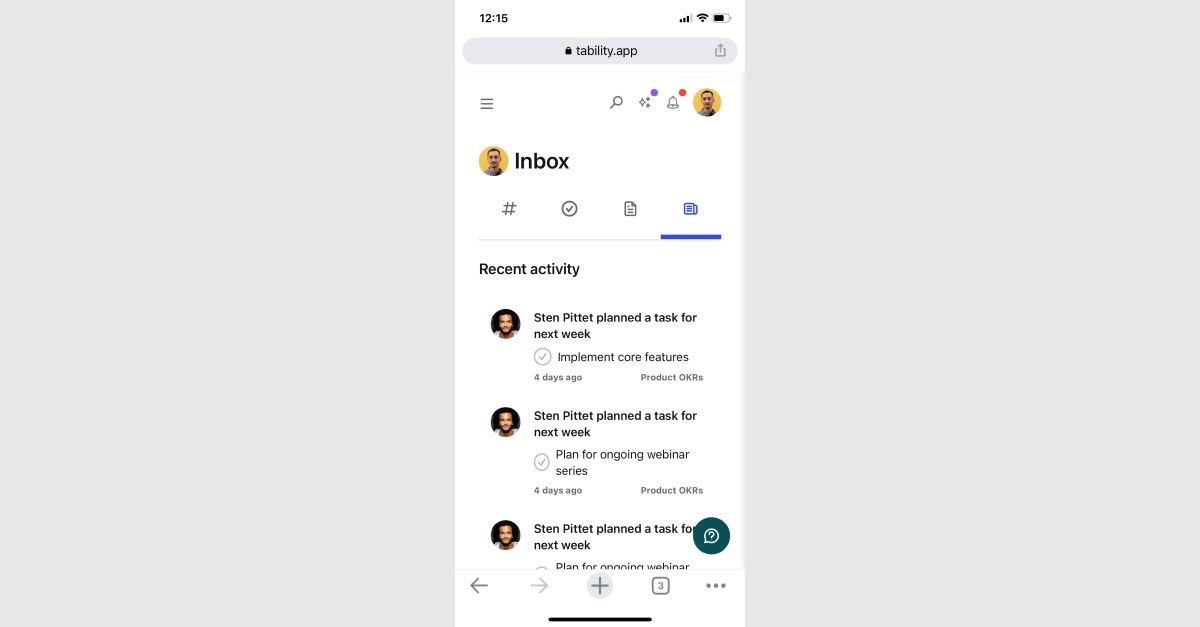 Everyone loves a good endless scroll when they're on the bus. Why not check in on what's going on around your org? The Newsfeed tab is a great way to get caught up in the morning on the latest activity from your team or around the entire org.
One of our favorite customer anecdotes comes from this feature, where the team at Blys noticed people from one department giving kudos to teams in other departments based on the things they were seeing in the Newsfeed.
"The other day a Customer Service team member congratulated someone on the Product team and gave them credit for improving a feature. You can see that [Tability] opened up this new space for collaboration and people are excited. From my perspective, it is very lovely to see a little tool like Tability contributing to our company culture and success."
The transparency that Tability provides not only helped their team align on objectives and work together, it gave them a place to celebrate and share their wins company-wide as well. So take a scroll and comment on your favorite team achievements!
---
Those are just a few new things that you can add to your daily commute. You can go to your Tability workspace right now on your phone to see exactly what's been updated and what hasn't. We'll be working on this in the coming days so be sure to keep an eye out for any improvements and announcements coming up.

As always, if you check it out and have suggestions please let us know or email us: [email protected] ❤️