5 ways to share your OKR progress with your whole team
Your strategy and OKRs are nothing if you can't show your progress. Here we break down 5 easy ways to go from tracking OKRs to sharing and reporting.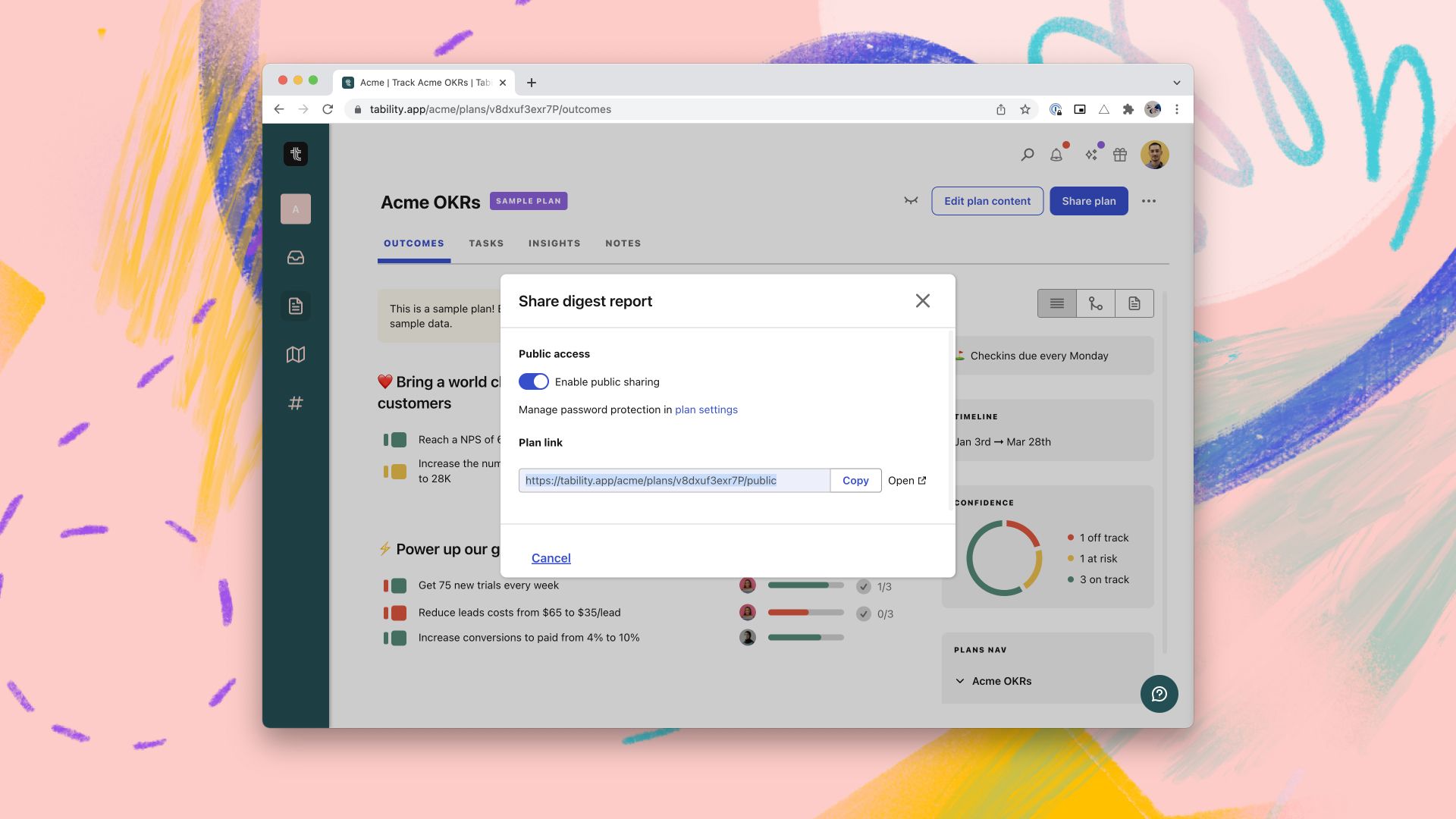 Tracking OKRs is great, but we all know there will come a day when you need to share that progress with your boss, other teams, leadership, or maybe someone outside the org. We've made it incredibly easy to share your Tability plans to just about anybody through different views and file formats.
---
1. Share using the Public Share link
Now usually your team would already be getting a weekly report on the team's OKRs – but what about if they aren't on your team? How do you share your OKRs with them?
This is where the Public Share link comes in.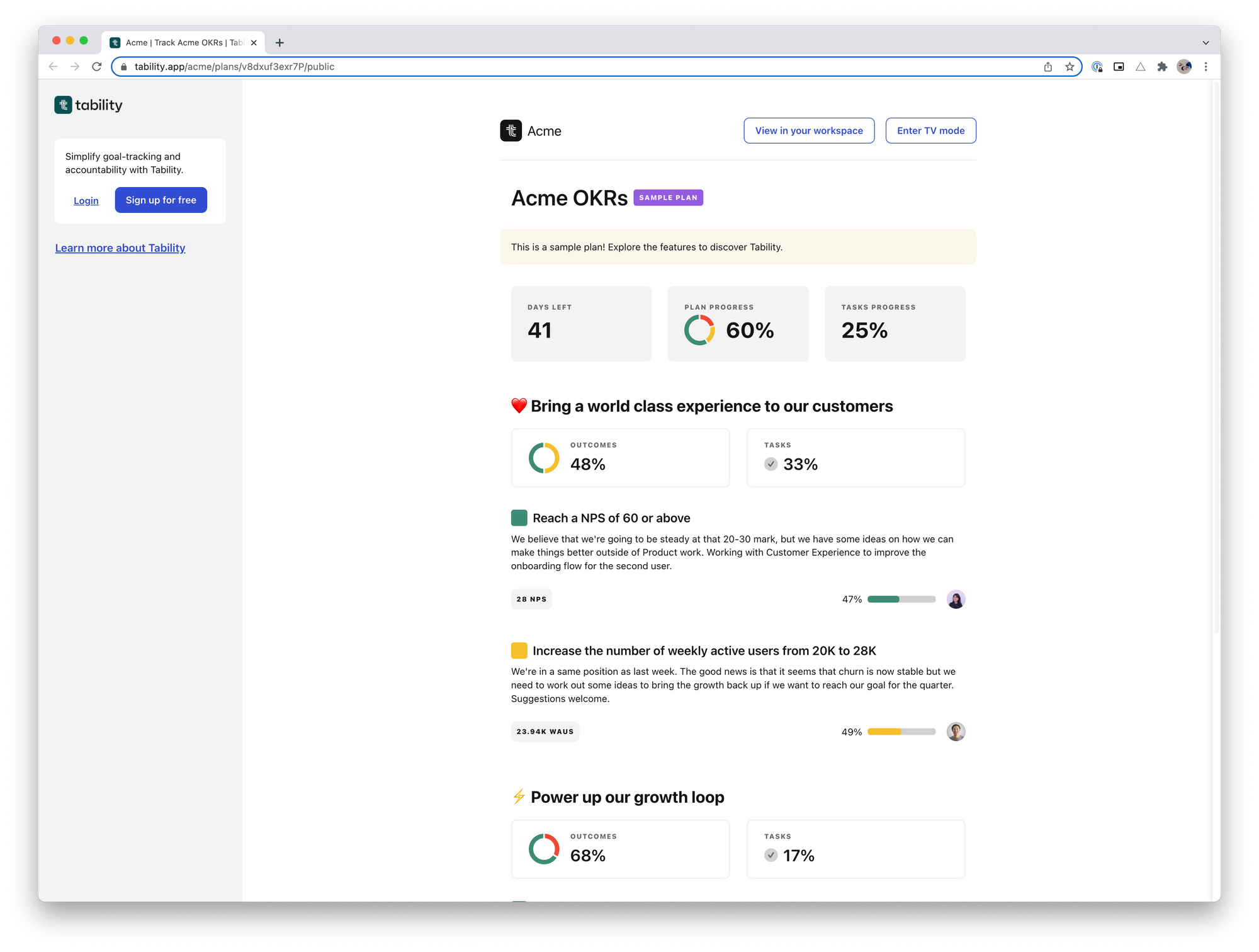 Using the Public Share link, anyone who has that link can access this report view of your plan. Now it doesn't allow anyone to make changes or submit check-ins without logging in, but you do get a full overview of the progress across the entire plan.
This feature comes in incredibly useful for sharing our progress with stakeholders outside of our team – we use one every month to share with our investor deck!
2. Broadcast your progress using TV Mode
Remote work is nice, but some of us are happy to be back in the office again. When you're back in the office environment, a nice way to keep your goals top of mind is to have them displayed in the office somewhere – how about on a TV?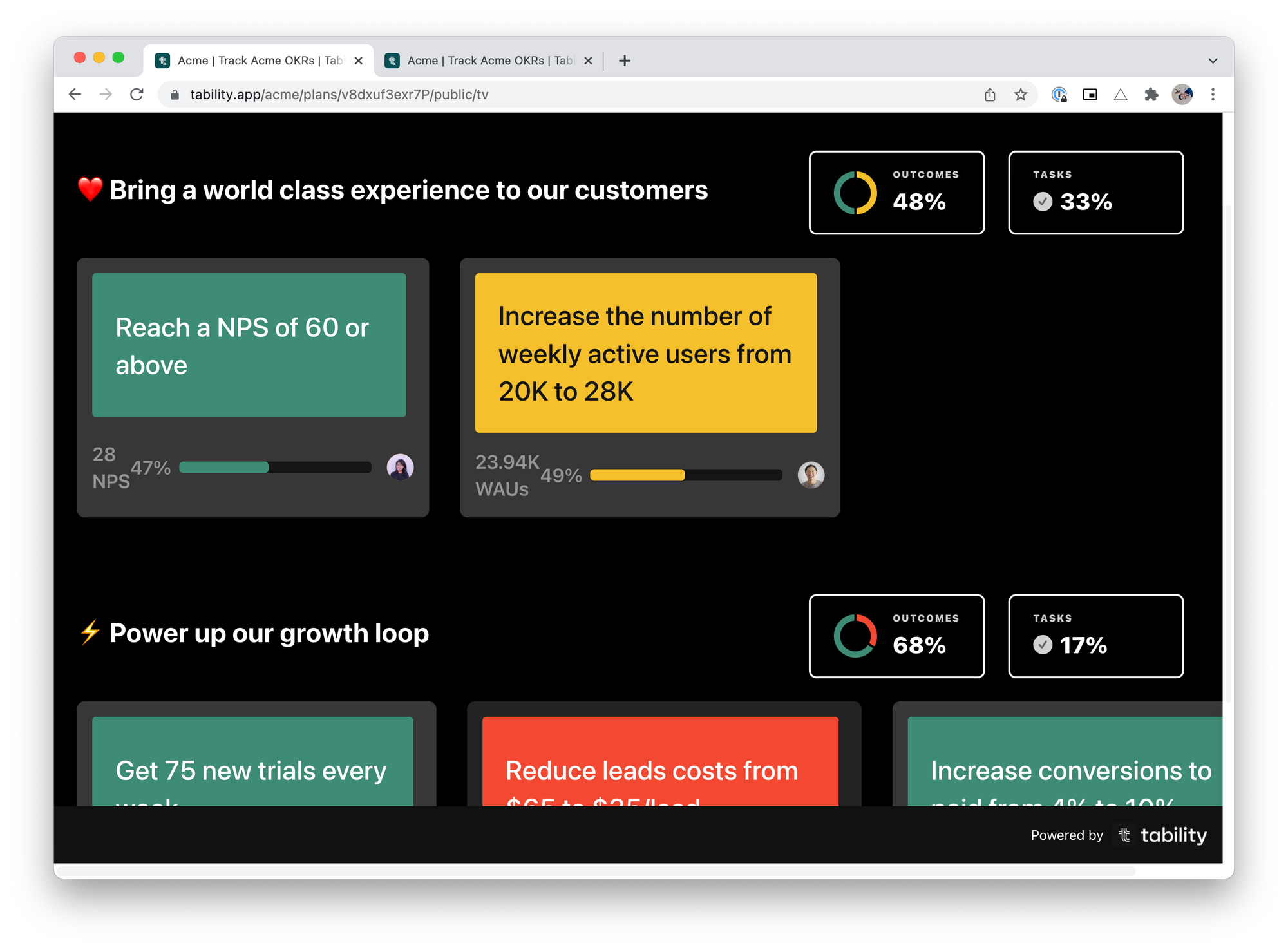 If you do set this up on an actual TV, you can turn on an auto-scroll feature so that you can see all of your OKRs throughout the day.
Of course this isn't just limited to TVs – if you're just looking for a more visual way to display your OKRs in a meeting, or to use in a presentation, this view can come in handy as well.  
To activate TV mode, just go to the "⋯" ellipses menu in the top right of your plan, and click on TV mode.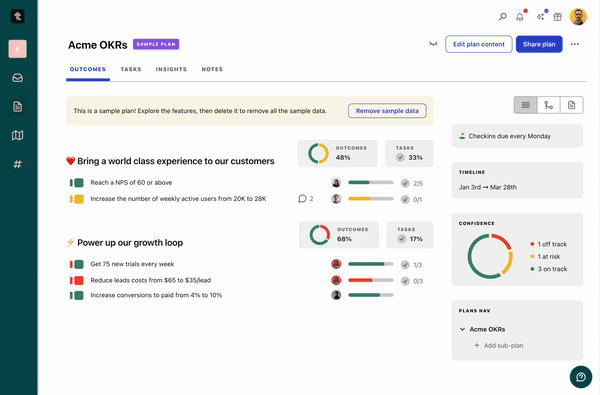 Read: How to set up TV Mode on Tability →
3. Get Reports in Slack
Now one thing we're very aware of when building a productivity software, is that we know nobody wants more tools! We're all competing for your work time so if there's a way to integrate with other tools and save you some time, we love that.
Integrating with Slack allows you to do just that, by bringing check-in reminders and all your reports directly into your slack channel of choice.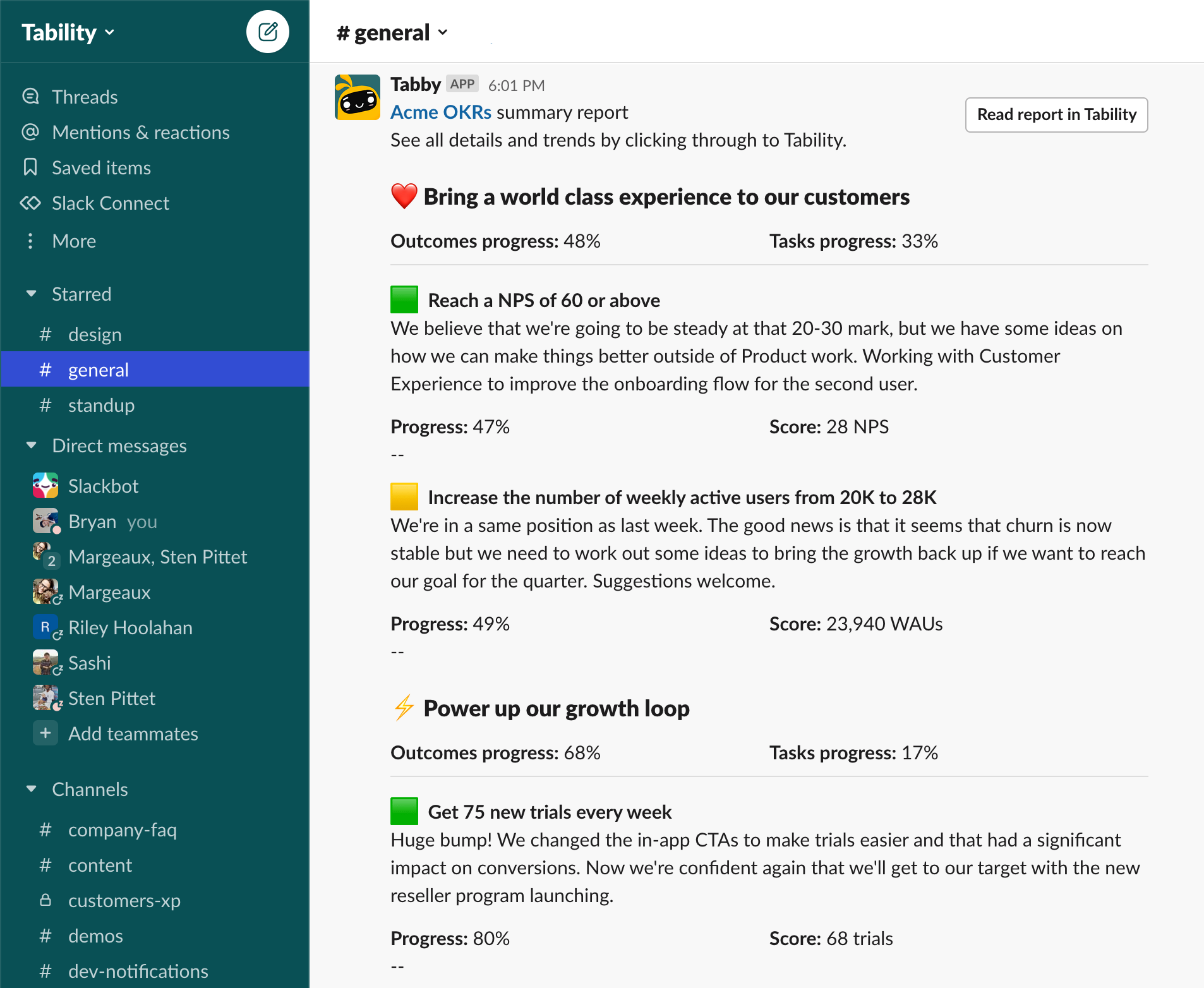 The in-channel reports is a great way to share your progress to your team, or even the entire org automatically.
4. Export to PDF
Now for an old-school method: downloading a file and attaching it to an email (or whatever app you want to send it through)!
Much like the Public Sharing view from earlier, you can take a similar report and export it as a PDF. Here's what it looks like on your every day PDF reader (like Preview on mac).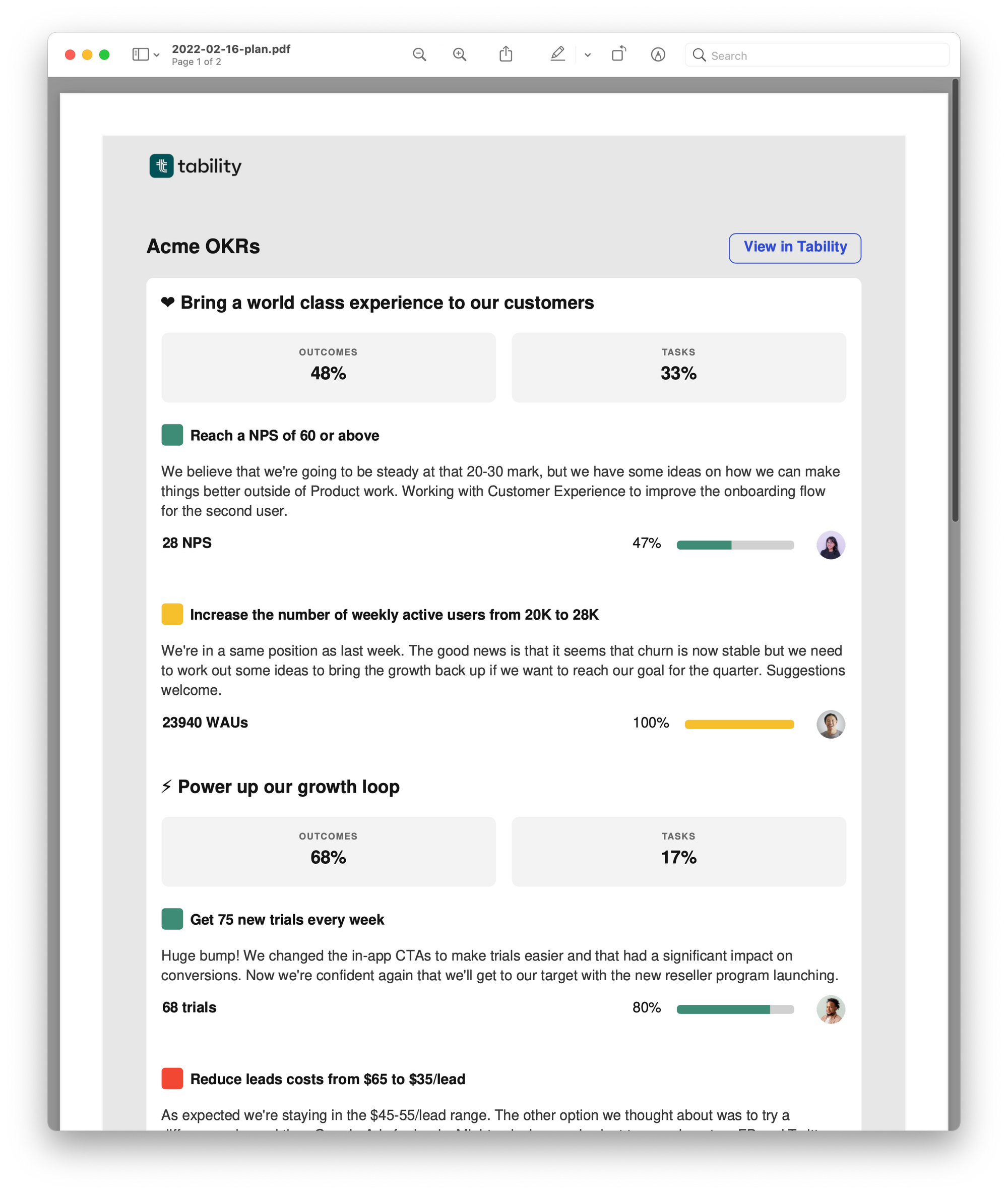 You can take that PDF and attach it to an email, print it out and send it in a letter, hand deliver it, whatever you want!

To download, go to your plan and click on the "⋯" ellipses menu in the top right and select "Download as PDF."
5. Filter outcomes and export as a CSV file
Now this is similar to the last, in that it's a download a file type of situation.
Using our Outcomes view, you can see all the outcomes and key results across the entire workspace. Using the filters, you can easily filter the results by things that you care about. Are you having a 1:1 with Bill? Let's pull up just Bill's outcomes. Looking for just the things that are in the red? We can filter by that too.
Now when you export to CSV file, it'll only export what you currently have in the view. How cool is that? 😎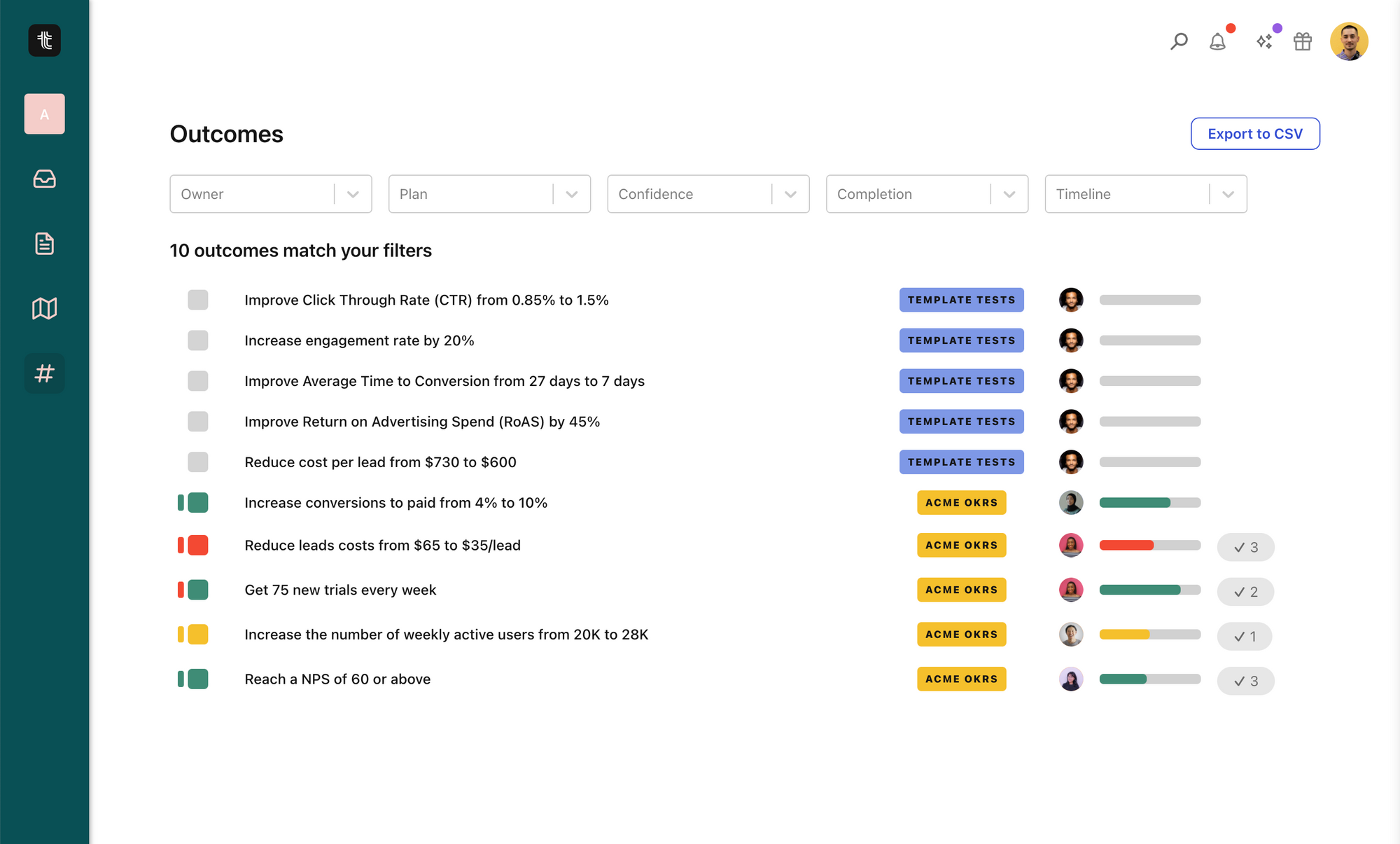 Now you can send that out as a CSV file or drop it into Google Sheets or Excel to play with the data some more and build your own reports that way.
*this feature is only available with an Essentials subscription (see pricing)
---
Bonus: Invite your whole team
As we've mentioned in the past, we offer whole team pricing, meaning we make Tability more affordable as you add more users. If you want teams to stay on top of their goals and OKRs, the simplest way is to get everyone involved.

Here's a trick: If there's a plan you're not a part of, you can still get reports by clicking the 'watch' button 👀✨
---
Want to see more of what Tability has to offer? Book a free demo with us! We can help you get set up with OKRs in a way that really works for you. 🌈