SaaStock Dublin 2022!
Tabby goes to SaaStock! Our team flew from all around the world to meet up at the SaaS conference to talk OKR tools and meet some awesome new people.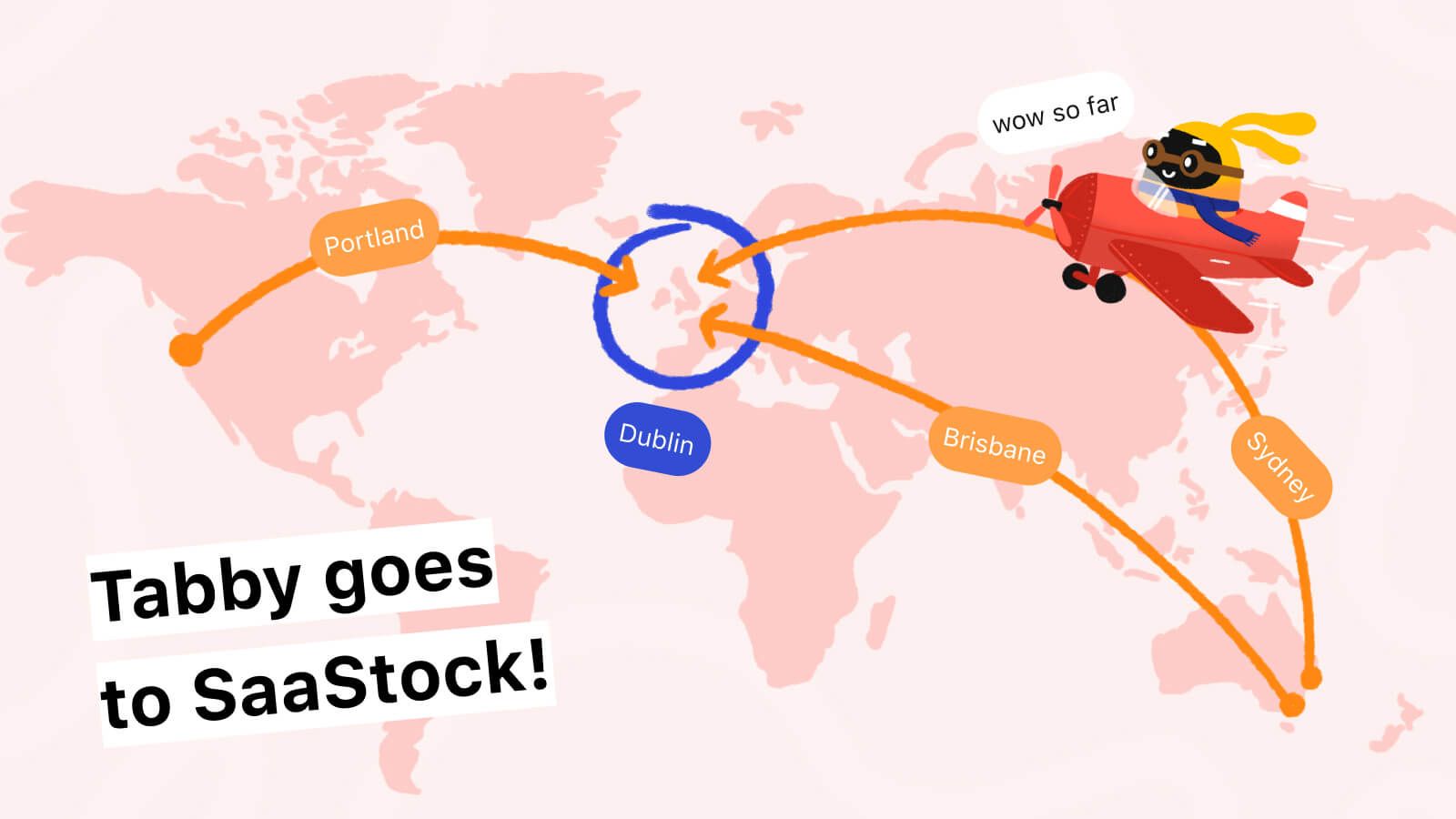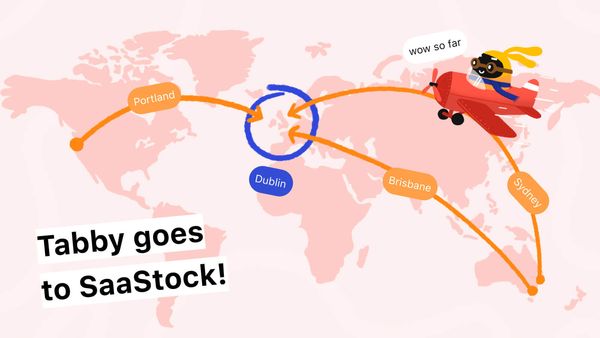 Last week our team flew out to Dublin, Ireland for SaaStock– nearly 80000 km (50,000 miles) there and back for our 3-person team ✈️ It was our first time attending a conference as a team so we really didn't know what to expect. We ended up spending a whole day in a room with 80+ startup founders, 2 full days talking Tability and OKRs with people who were genuinely stoked about it 🤘, gave out hundreds of t-shirts and stickers, and met some truly amazing people along the way.
✨ Highlights ahead ✨
It was our first time getting together as a team!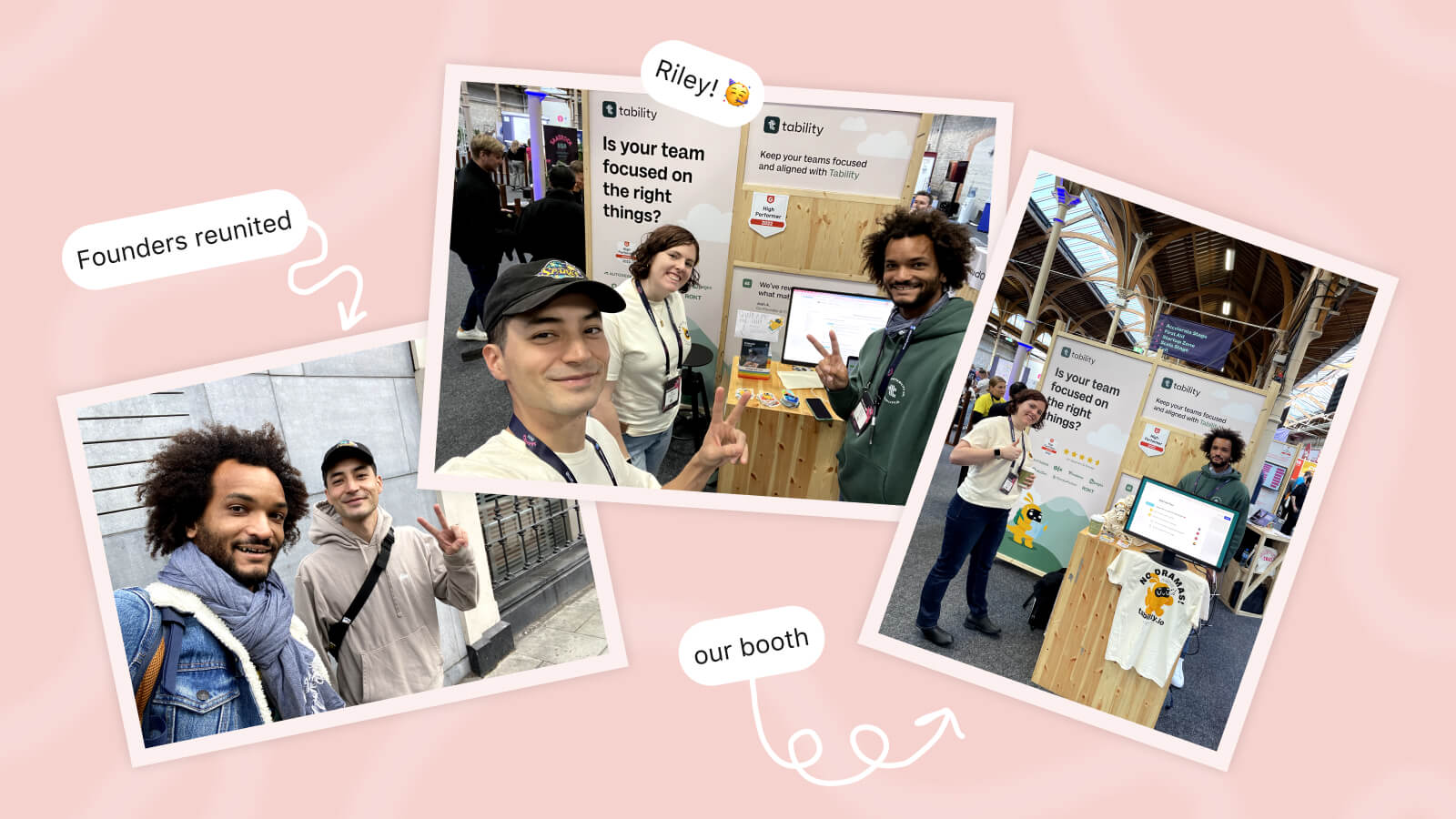 The last time Sten and I were in the same room together was in Barcelona for Atlassian Summit in 2018. At that time I was doing some freelance work for him when he was working on a project called Squadlytics (RIP🪦). Later that year I joined him full time as a co-founder and we started Tability. We haven't even been in the same country once in the last 4 years, the entire time we've been building Tability.
Last year, Riley joined the team. We've been working together nearly a year, and until this trip, we had never met beyond the walls of Zoom. Many people were shocked to hear about how far we had come, but even more so that we'd been able to accomplish so much without working in the same place.
It was a fun story to be able to share, but the best part was the three of us finally being able to get together and share a beer and a laugh in real life.
Key takeaway:
Reserve budget for regular Off-sites. Remote work has it's upsides and we very much believe in it, but having some time to work (and play) together is so refreshing. It can seem like a chore to organize, and a major dent in the budget, but getting the team together (however far) is worth every penny.
Product and Peer Validation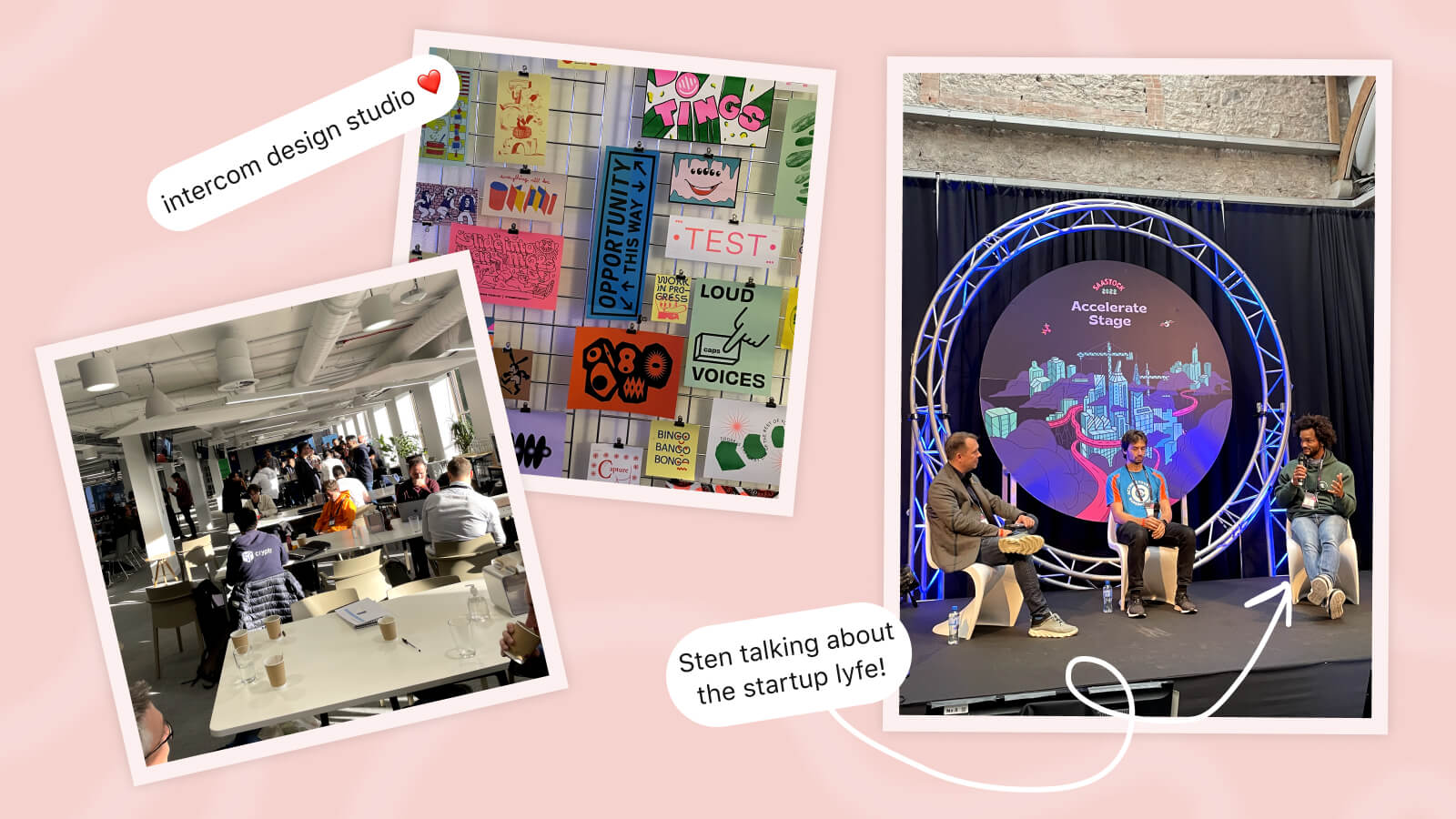 On the first day of SaaStock, we were invited to be part of Startup Day, where we got into a room with 80 other startups, got to pitch our ideas, network, and took some awesome workshops. Being in a room full of founders, we knew we would be in a room full of really inspiring people with a lot of really good ideas. It was intimidating going in but actually quite comforting once we were there.
When you're working on an early stage startup, I think it's easy to always feel like the small fish in the sea. You don't quite have the revenue, or the customers, or the followers that you think you should have – there's always SOMETHING that's gnawing at you. In that in the day-to-day, it can feel like you have no idea what you're doing, but I was surprised to feel like we fit right in with a lot of the other startups. It felt good knowing that though we have a lot to learn still, we also have a lot to brag about too.
Key takeaway:
Keep grinding but don't forget the progress you've made. There is always going to be people ahead of you or succeeding more, but it doesn't mean you're not making progress. Stay hungry, but make sure you're proud of the work you've done and show it off! 😤
That human connection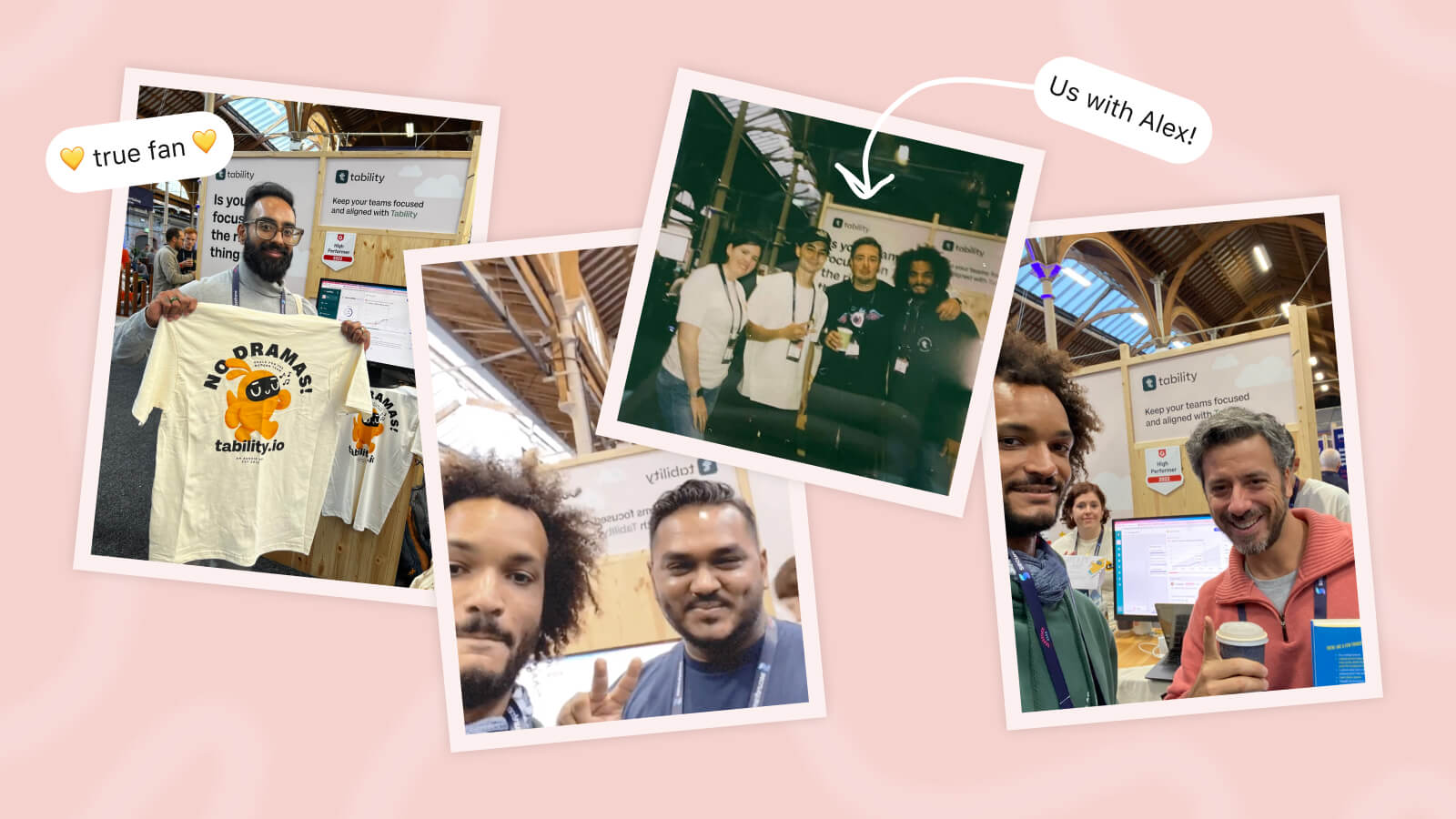 Post pandemic life is starting to feel like a new kind of normal again, and connecting with people was above all the best part of the trip. It seemed to be that this was the first big event we had attended since the pandemic for many people there. It was refreshing to meet a bunch of friendly people, share ideas, share laughs and feel inspired by one another. We even ran into a few of our customers already using Tability!
Being face to face with potential customers, investors, and partners, everything felt easier. Our sales pitch simplified as it repeated throughout the week, as we realized the things that people care about and the things that resonate with people. On the internet it's so easy to speak in features and jargon, but really people want to be spoken to like people – like you're speaking face to face.
In one of the Sales workshops we attended, Kevin Dorsey talked about how your website copy and the words in your pitch should match the words that your customer uses. The exercise encouraged us to imagine our target customer going home after a long day of work, sitting down on the sofa with a drink as they reminisce about their hard day. The words that come out of their mouths would be "I wish I had a <blank>."
We found ourselves stumped as we filled it in with "goal tracking platform" or "OKR tool". Though those are representative of some of the things we do, it still doesn't quite feel like the core problem or the words someone would mutter to themselves or a spouse at home: "I wish I had a... OKR tool...?" It's surprising how difficult it is to get your B2B software to sound human at times, but that's what we have to keep working towards.
Key takeaway:
"Solve People Problems, not Business Problems." It's easy to start treating customers as another account, another client, another subscription – especially when you often never meet with them face-to-face. It's important to take a second to understand that we're all humans behind the screen. So even if you're making a B2B software, make a product that solve problems for people, not just the business ❤️
---
Big thanks to Alex Theuma and the SaaStock Dublin team. We're so excited for the next one!
See you in Austin.....? 🤠