Tability Mobile is here! (beta)
The new Tability mobile app is here. Request an invite to the beta, and get OKRs in your pocket today.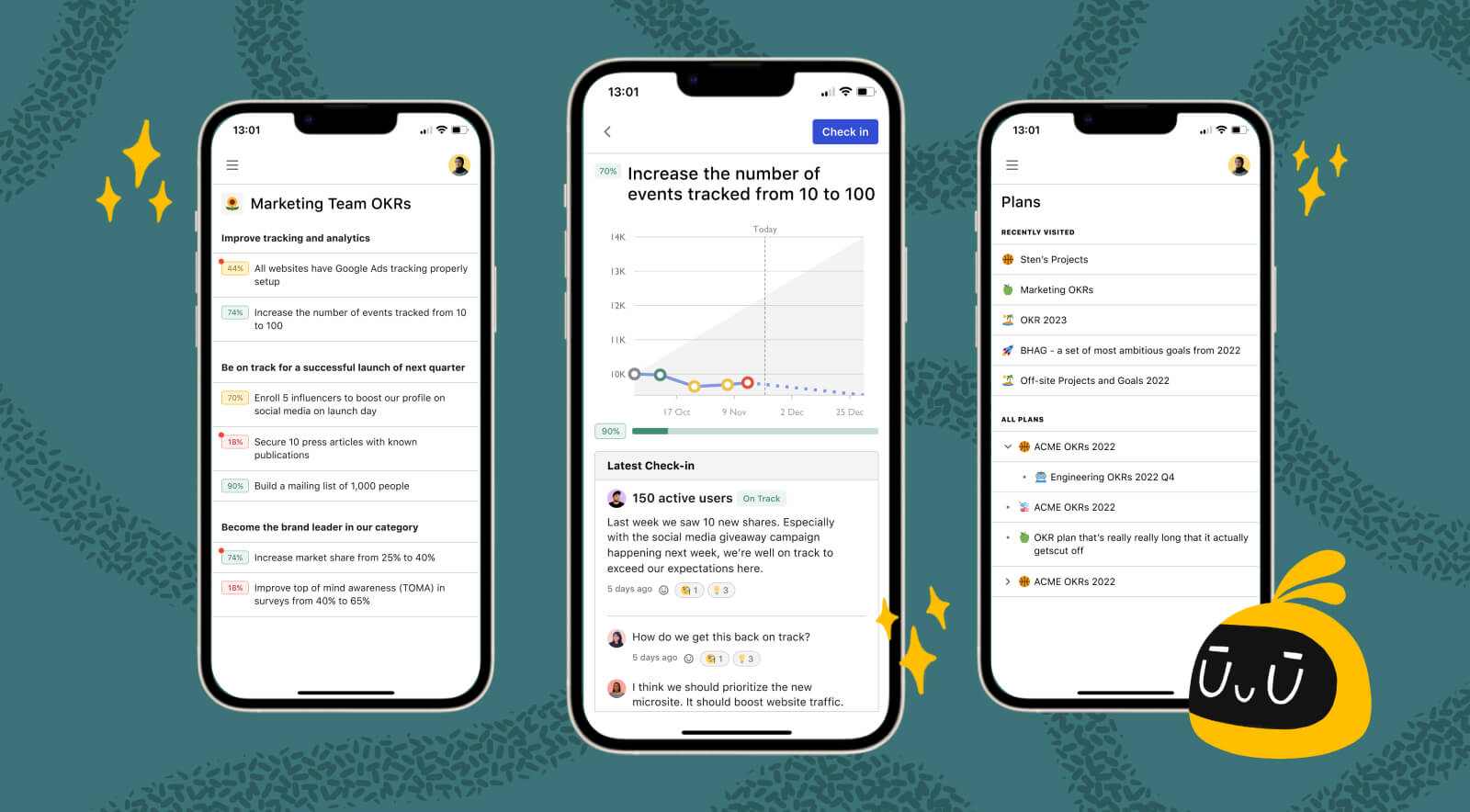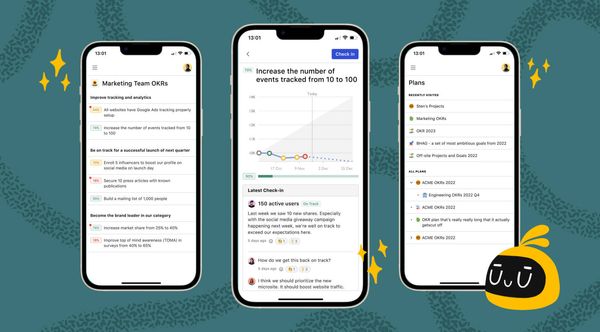 This week's feature update is a big one as we are announcing the new Tability Mobile (beta)! ✨ We've just started to roll out the first invites to the beta version of our mobile app and we would love to get more people involved to help us polish the features and make sure that we're providing a great mobile experience.
It's been a long time coming, but mobile has always been a huge part of our vision for Tability. Building a great experience in the web app was phase one, and now we're ready to start bringing that experience to your pocket. We know that everyone these days is always on the move, and with the app, you'll be able to review strategy, check progress, and be fully updated by the time you get to your next meeting. It's basically a walk and talk with Tability.
What to expect in the beta:
Create check-ins on your existing Outcomes/Key Results.
Browse all of your plans, see your Outcome details and latest updates, and create new tasks.
Go to your Inbox to view your Outcomes and Tasks for the week.
Add comments to Check-ins so you can have conversations on the go.
Coming soon:
Push Notification support 🔔
Request an invite today by filling out this typeform! 🥳
---
✨ What's new
Add relationships between Outcomes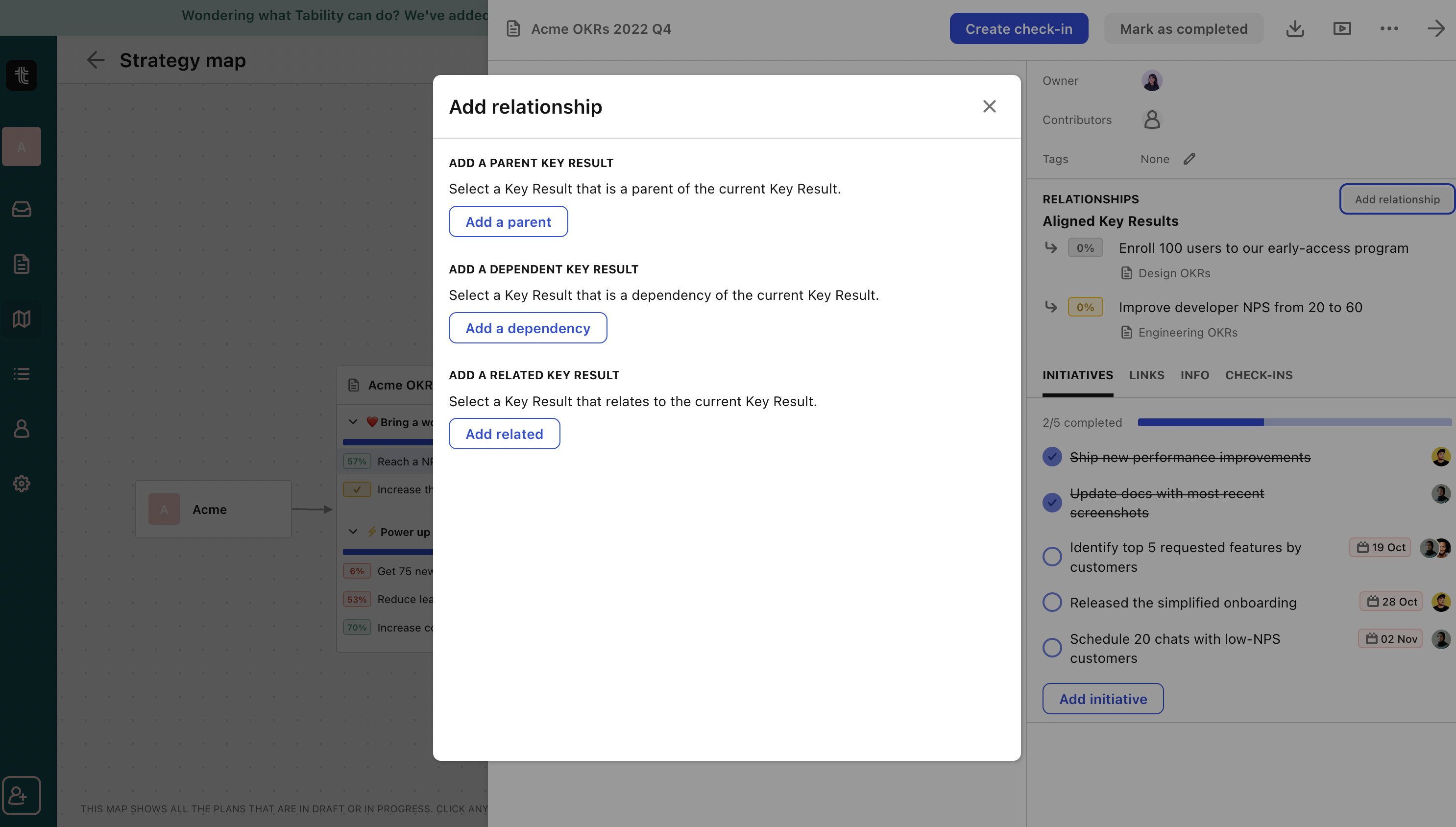 Prior to today, relationships between outcomes had some pretty hard constraints. You could only link an outcome to another one in a parent plan.We've now removed that constraint and introduce much more flexibility in the way you can connect outcomes and Key Results in Tability. You can click on "Add relationship" to pop up the relationship panel that will give you 3 options:
Add a parent
Add a dependency
Add a related item
We hope that this will allow you to better map relationships, and increase visibility on your goals.
---
🌈 What's improved
Improved
We've simplified the navigation on the left and grouped all listing items together.
The Inbox has been renamed to Dashboard for clarity.
We've redesigned the Dashboard to group all outcomes together.
Closing tasks is now snappier!
Fixed
Tasks name are no longer truncated in the outcome panel view.
---
💭 Content Highlights
OKRs vs KPIs: What's the difference: Learn more about how OKRs and KPIs are different. Both involve metrics but are totally different in practice.
New Templates Library: We've revamped the way Templates work, and now we can add templates much faster. Expect more and more templates everyday to use in app or wherever you use OKRs
---
We'd love to hear from you
That's all for now! Please reach out or add your suggestions directly to our public roadmap if you have feedback or questions. You can even vote for features already planned to expedite them. If you want to chat to us directly or connect with other users, you can also find us in the Tability Slack Community.
❤️ ❤️ ❤️