Tability + Notion, Confluence: Embed goals in your docs
Embed Tability into your docs with our new integrations with Notion and Confluence. See how Tability is becoming more connected, seamlessly integrating into your OKR toolstack and becoming a strategic hub for your business.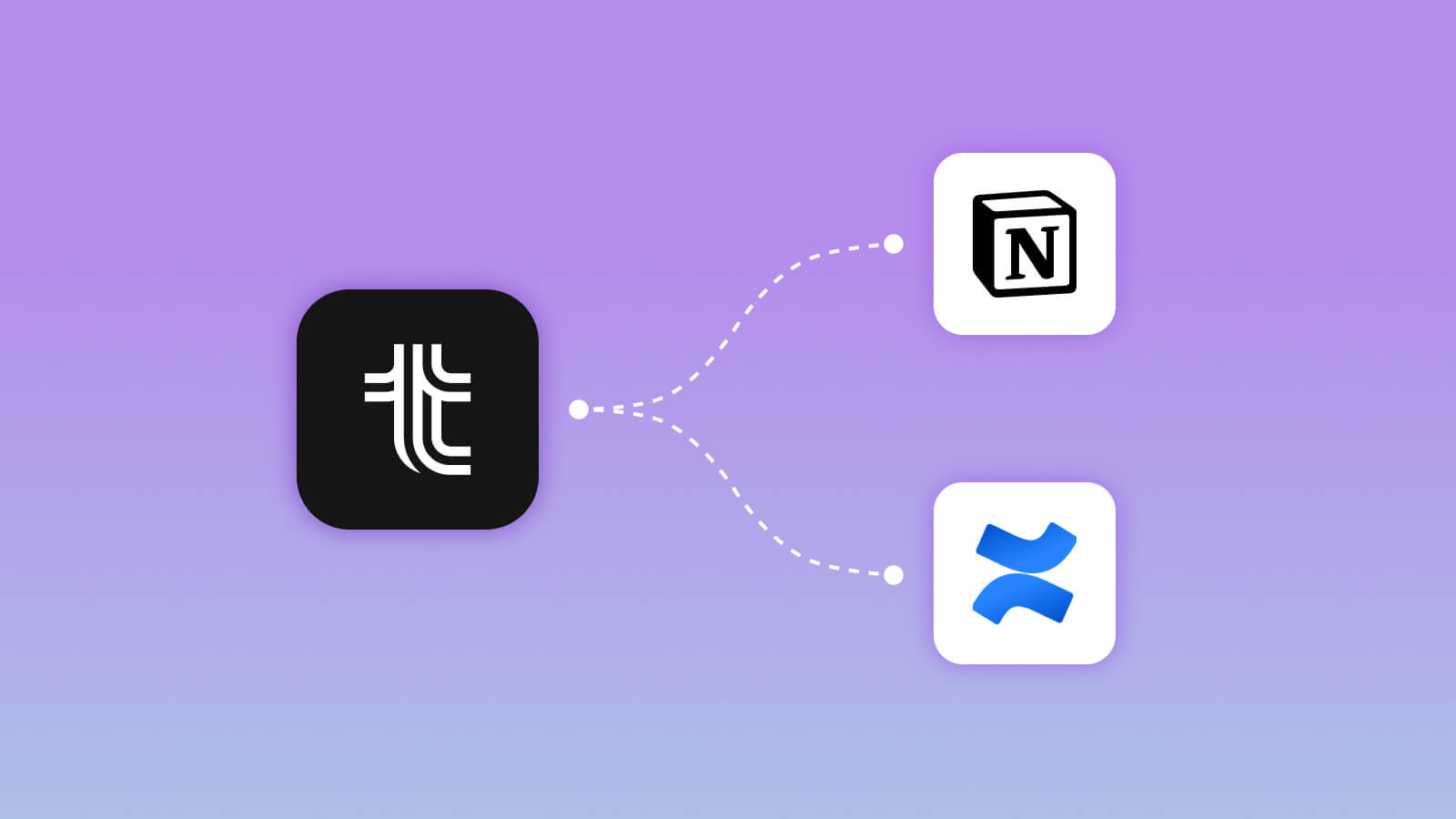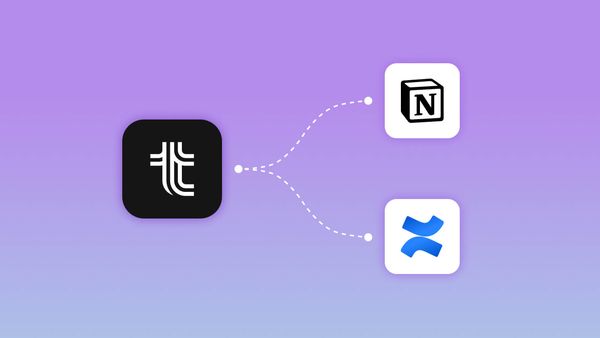 in this week's update, we've got some exciting news to share! We've added two new native integrations: Notion and Confluence. We know that many of you have been asking for this feature for a while, so we're thrilled to finally announce it.
By integrating Tability plans and OKRs into your Notion or Confluence documents, you can minimize context switching and ensure that all strategic components remain connected and up-to-date. It's simple to get started - just go to the plan, objective, or outcome and click on the share option in the top right corner. Then, use the /embed command in Notion or the /iframe command in Confluence to copy the given embed code and paste it into your docs.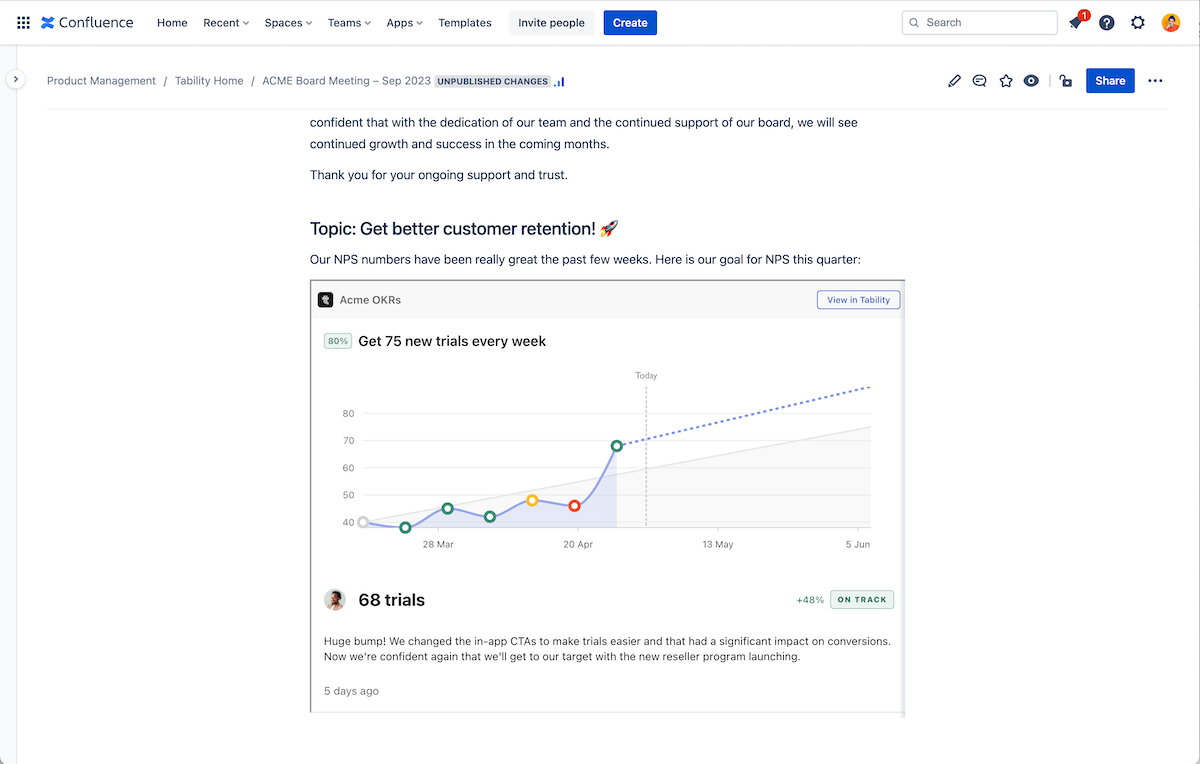 This integration is an excellent way to enhance your strategy documents in Notion or Confluence by adding visuals and charts of your progress. With your plans embedded in your docs, you'll always have the most up-to-date information without having to switch contexts, track down updates, or check for the latest edits.
If you want to learn more about how to install the Notion integration or our Confluence integration in your workspace, check out our documentation.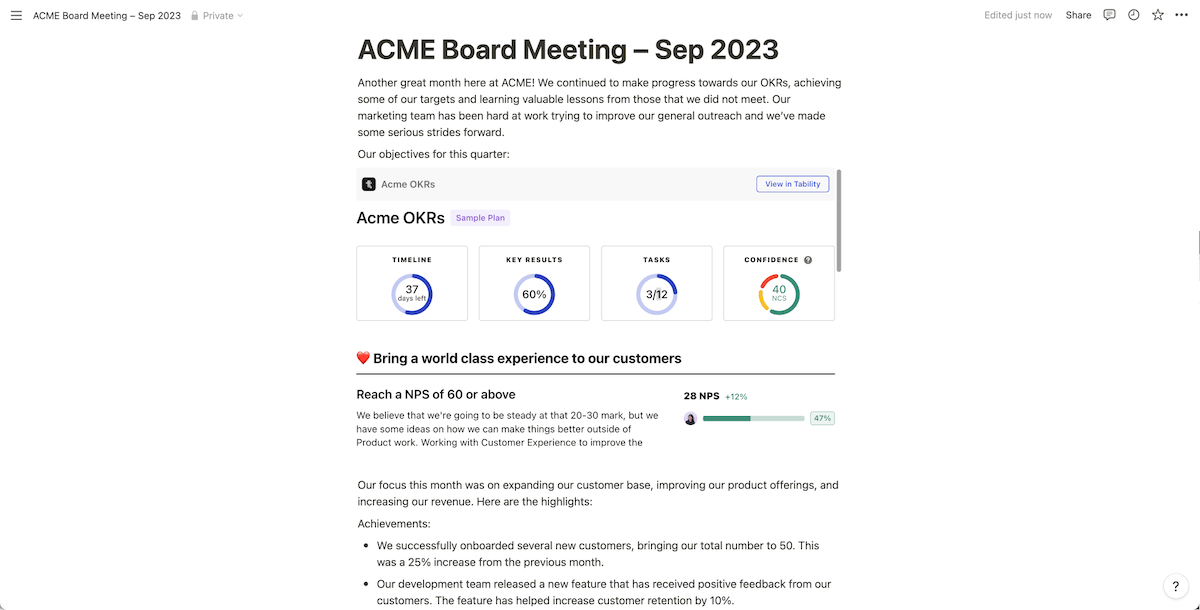 If you want to learn more about how to install the Notion integration or our Confluence integration in your workspace, check out our documentation.
A connected platform
These new integrations are just the start. We're investing into making Tability a better connected tool, so that it can sit seamlessly in your tool-stack. Our vision is to make Tability your strategic hub; connecting strategy to outcomes to execution, and creating a single source of truth for your business.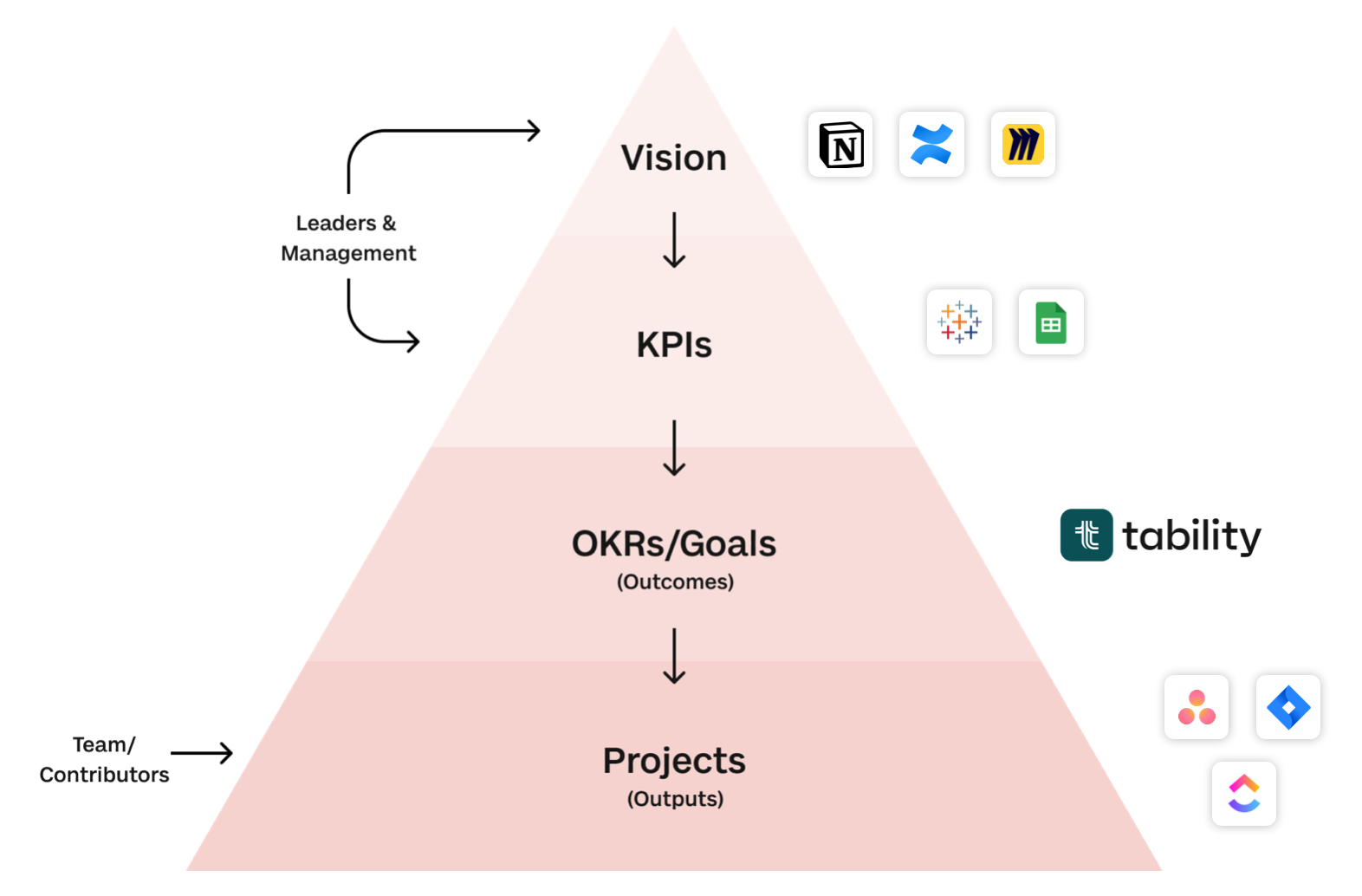 Being able to connect seamlessly with the other tools in your business (and the parts and people) is crucial to how we think of Tability. We want to bring all the tools, the context, the strategies and the outcomes and outputs — all in one place.
What's next?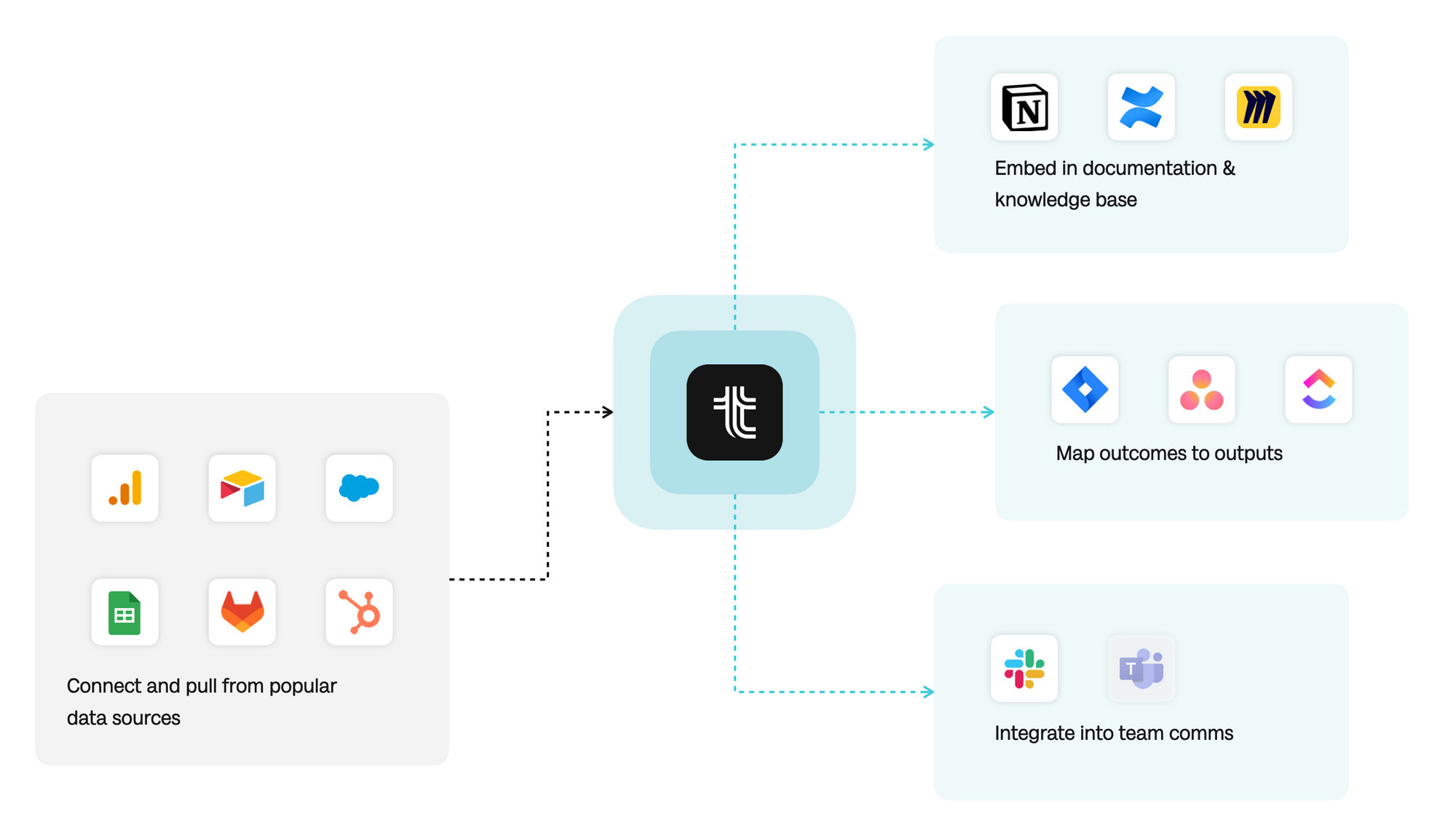 We will be rolling out more integrations in the coming months. Your teams use a lot of different tools that can interact in Tability in a lot of different ways. Whether it's project/task management, docs, comms or something else there are a lot of tools you go to to get different kinds of information. The way we see it, we break it down to two major ways that Tability can leverage integrations:
Data sources: The ability to plug into the platforms that measure your numbers and metrics, and bring that data into Tability. This can help assist you with your check-ins or automate them completely. Includes Google sheets, Google Analtics, Airtable, Hubspot to name a few.
Reporting and sharing: Now we know the other end of getting your work done, is communicating it to the rest of the company or stakeholders. This is where we have integrations with docs, comms channels, and connecting them to the task management tools where you do the bulk of your work. Includes Jira integration, Slack integration, Asana integration, Miro, Microsoft Teams etc.
We will be investing heavily into these integrations to make that diagram above feel much more like a reality. A mesh of all your strategy and execution, communicated through one platform.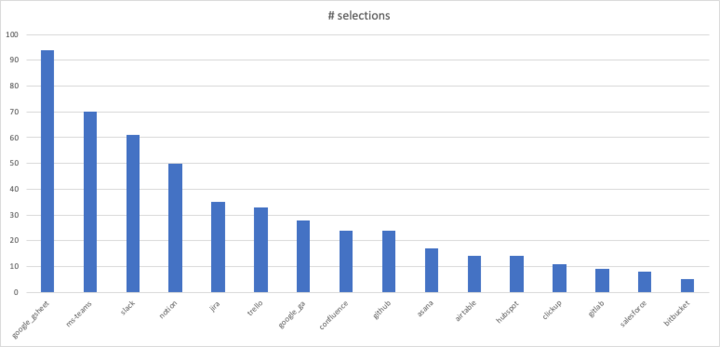 While we can't say which integrations are going to be prioritized quite yet, we've been collecting your feedback and have some ideas of what's next. Google Sheets, Microsoft Teams, Trello lead the way according to feedback. More to come on that.
---
Send us your feedback
No platform is ever a 10/10. That said, what some things we can do to make Tability better? We always try our best to expedite features our customers are asking for directly, as that's our top priority!
If you want to see what others are suggesting, check out our public roadmap. You can add requests and vote on existing ones there.
If you want to chat to us directly or connect with other users, you can also find us in the Tability Slack Community 💬
❤️ ❤️ ❤️