How to track your Bitbucket Pipelines data with Squadlytics
Our goal at Squadlytics is to help teams keep their momentum up while they're working on their next release.
One critical aspect of the development cycle is your build pipeline. If your builds are fast and successful most of the time then you're in a great position to have a fast feedback loop with your customers. But if your builds start failing often, or if they take a long time to complete then the pain of deploying to production will increase in an exponential way. Developers will be constantly switching context, going back to a work they previously thought was finished. Trust in the pipeline will decrease and your whole organization will slow down.
Builds are the gateway to production and understanding the state of your pipeline is critical.
One platform to monitor them all
For our own development we're using a mix of different Bitbucket Pipelines configurations in our repositories. Some are using pull requests to deploy, others have manual triggers. But Squadlytics can show us data across our repositories in the same way.
There are 3 things that we care a lot about:
Broken masters should be fixed ASAP.
Our builds should be reasonably fast to fail and suceed.
We want our success rate to be high.
This is something that can easily be monitored with our platform by looking at the builds dashboard.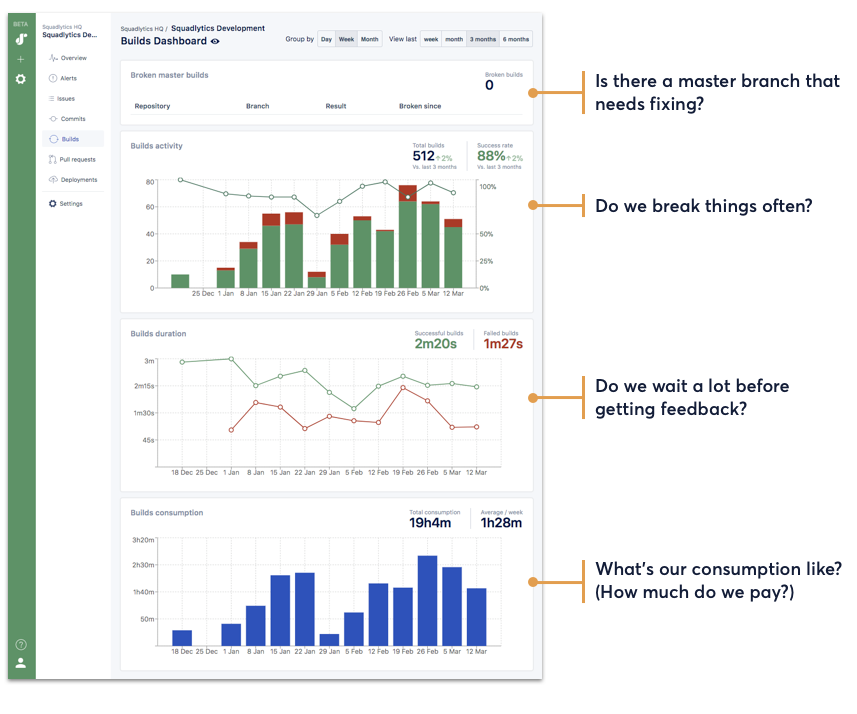 Let's see how you can get the same results for your Bitbucket repositories.
Getting our pipelines data in Squadlytics
Keeping track of your projects should not be another costly activity for you. This is why we've made the decision to create turn-key dashboards that automatically get populated as soon as we detect activity.
You simply need to add your repositories and we'll take over from there.
Step 1. Signup for your workspace
Go to https://squadlytics.com/signup to create your own workspace. After signing in your screen should be similar to the one below: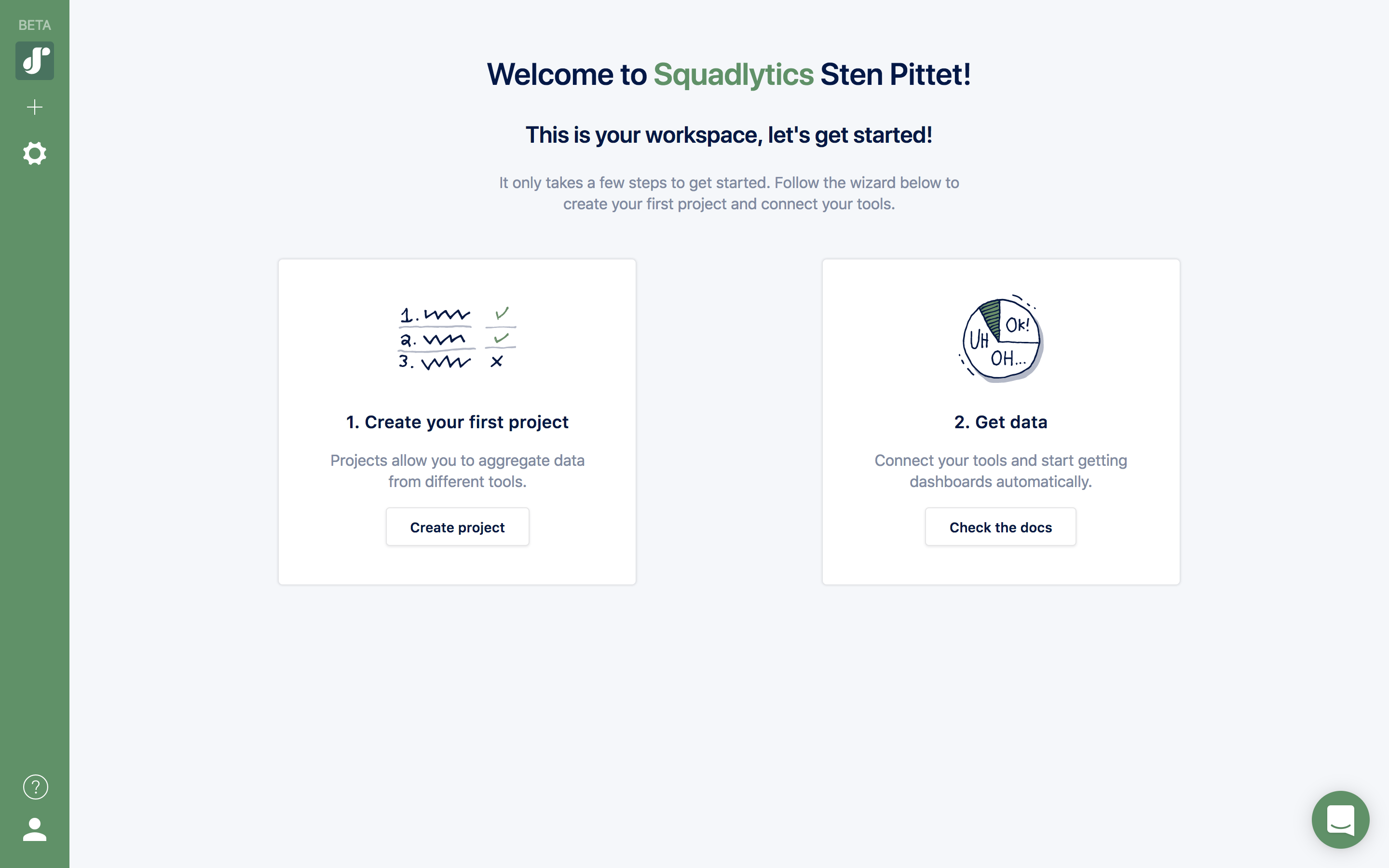 Step 2. Create your first project
Click the Create project button to add your first project. Upon creation you will be redirected to the Overview Dashboard.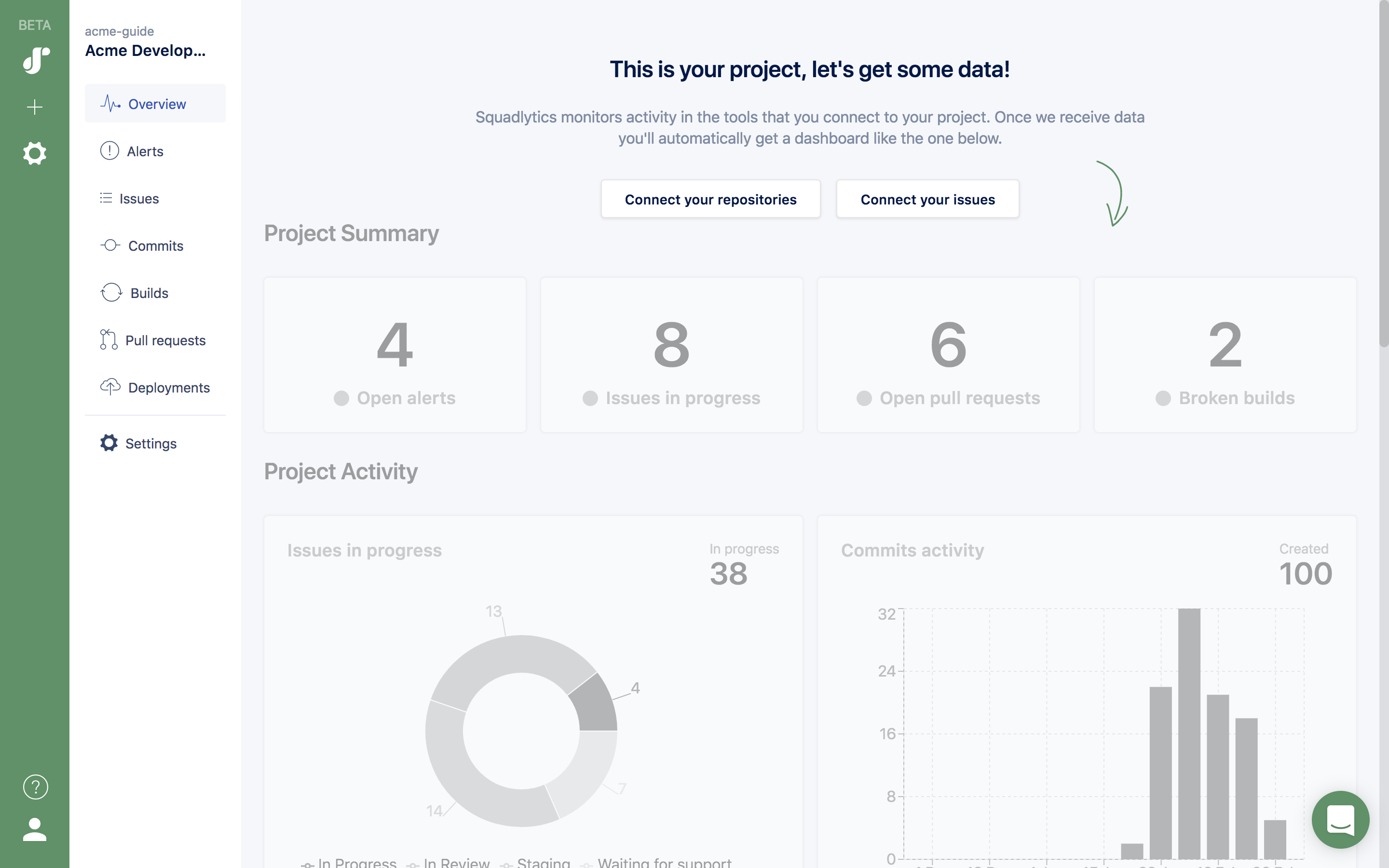 Step 3. Connect your repositories
Clicking on Connect your repositories will take you to the project settings where you can select your hosting service and connect your Bitbucket account.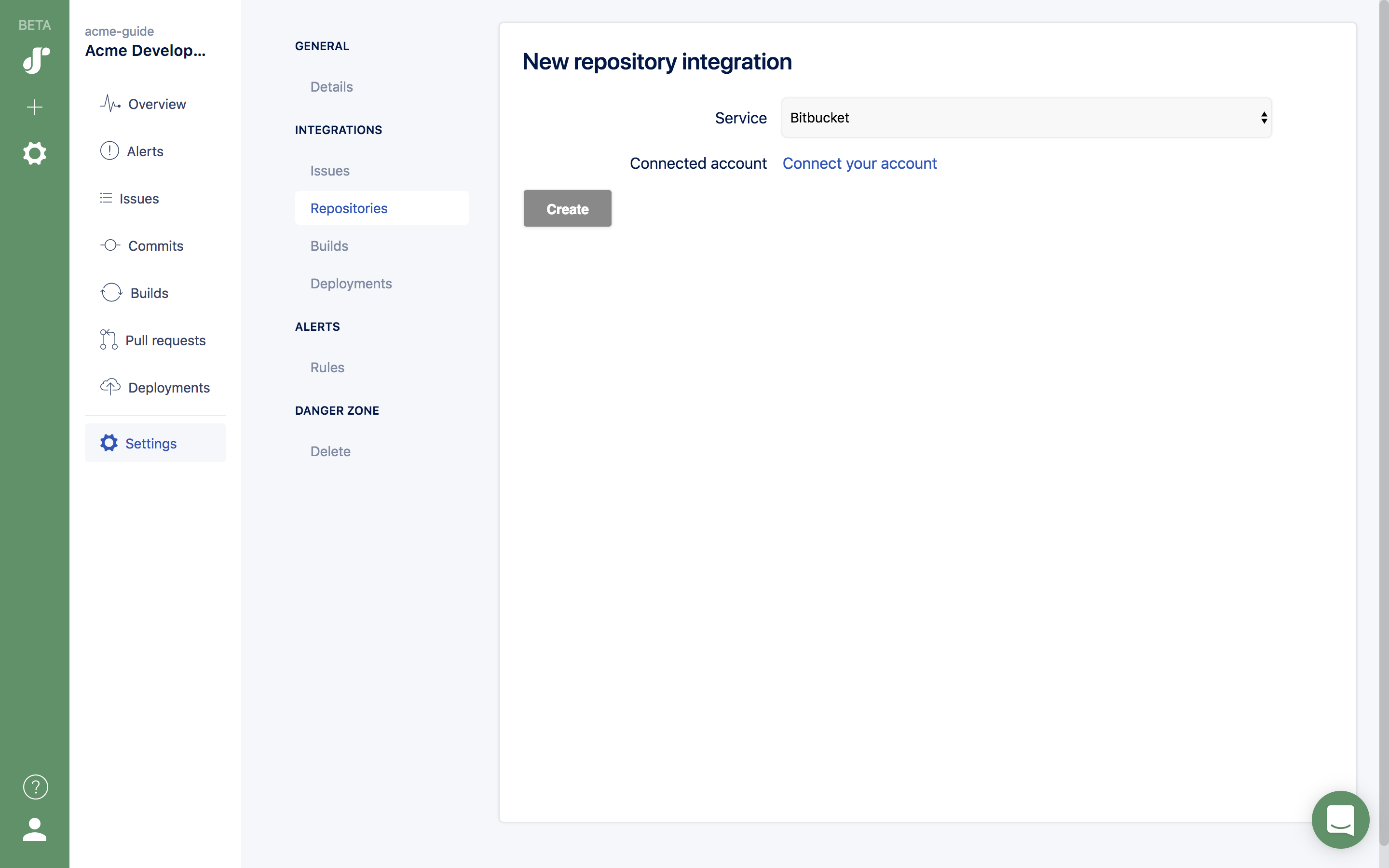 Once your account is connected you can type in the name of the repository that you want to track in your project.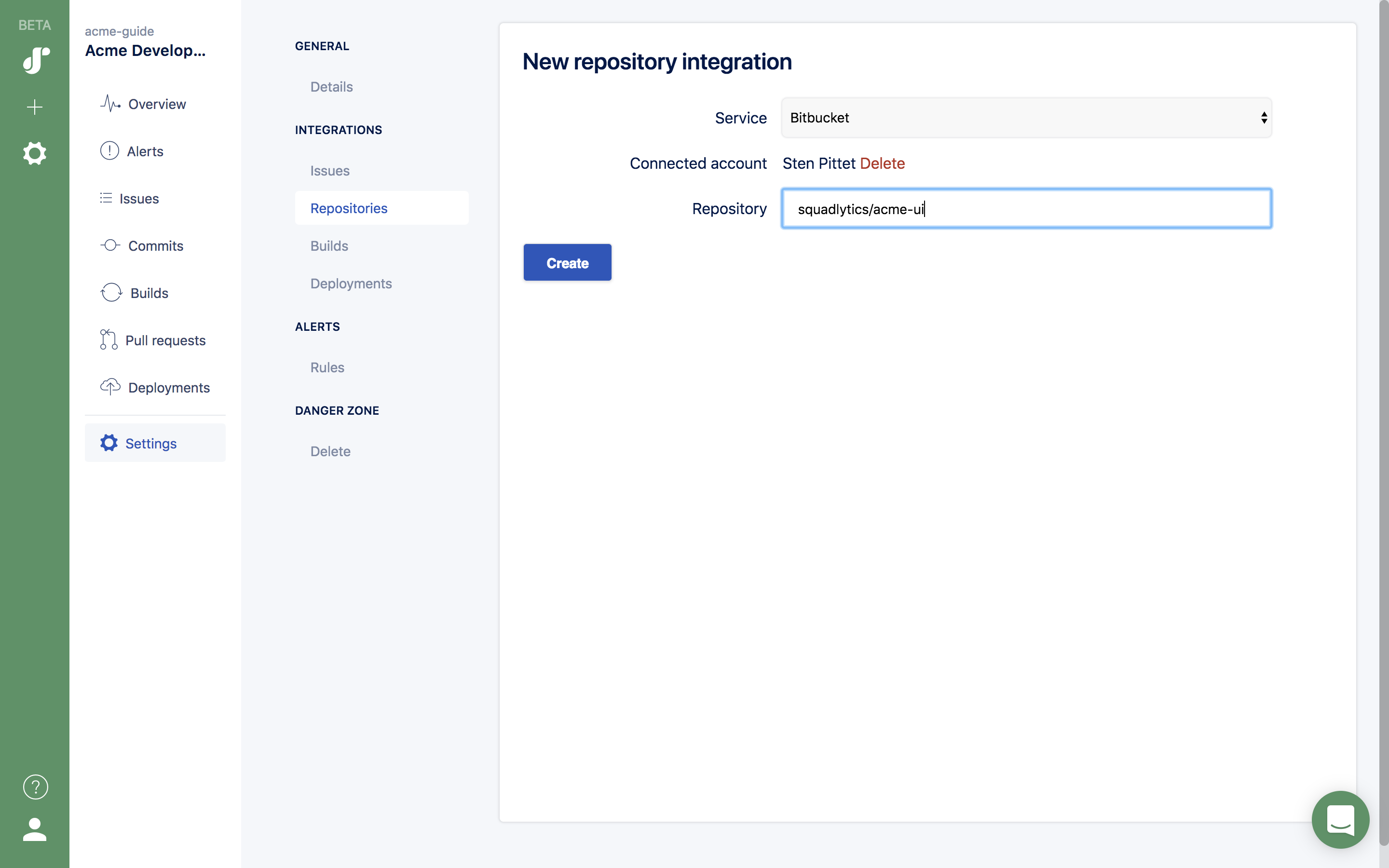 Your repository should appear in the list of repository integrations for your project.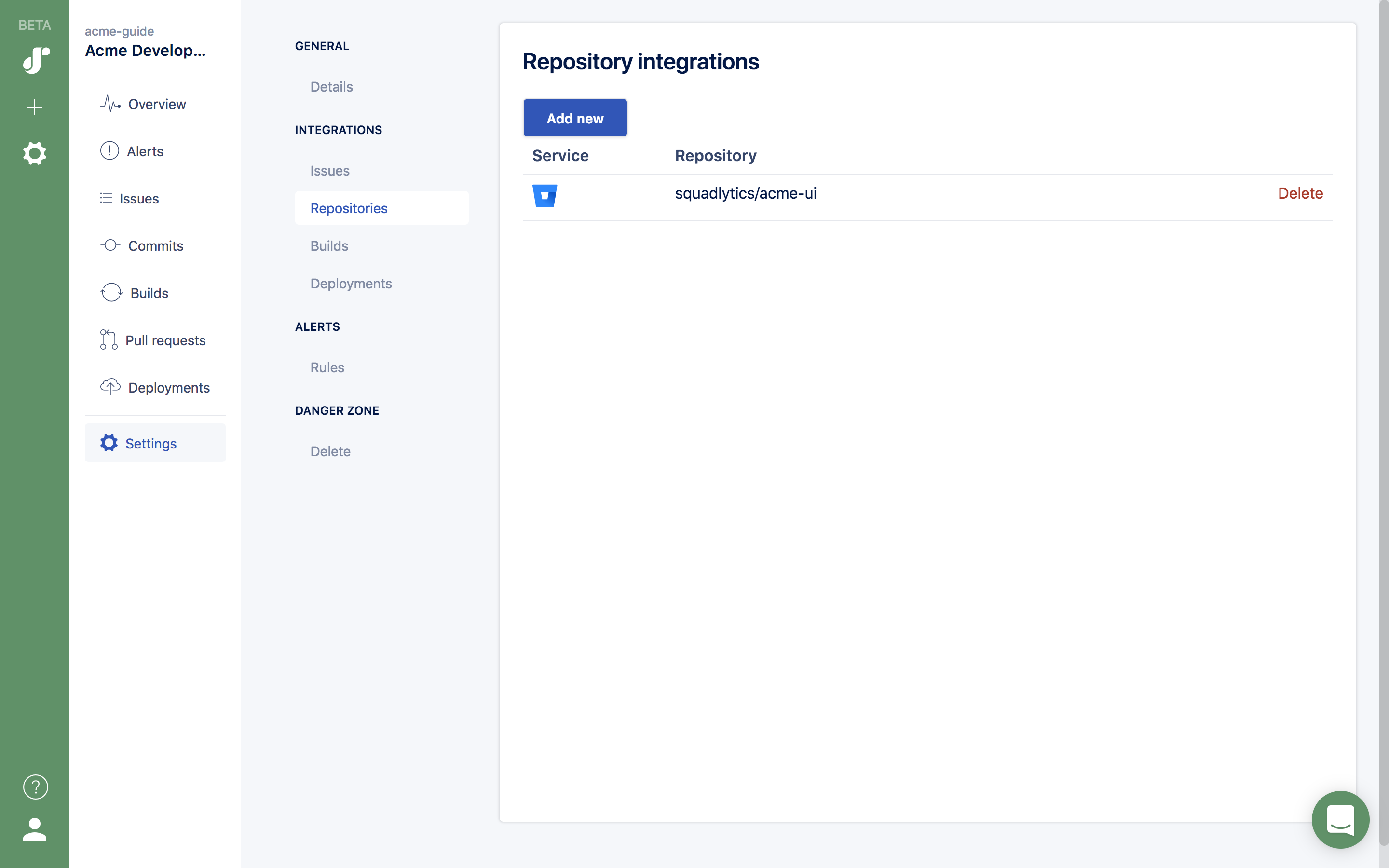 Step 4. Push a new commit to your repository
Squadlytics monitors new activity in the repository and automatically create reports for you when you push new commits. You don't need to create dashboards or spend time picking metrics, we do that for you - so that you can focus on your work instead of spending time setting up your metrics.
After pushing a commit to your repository you can go to the Builds Dashboard to see the related data.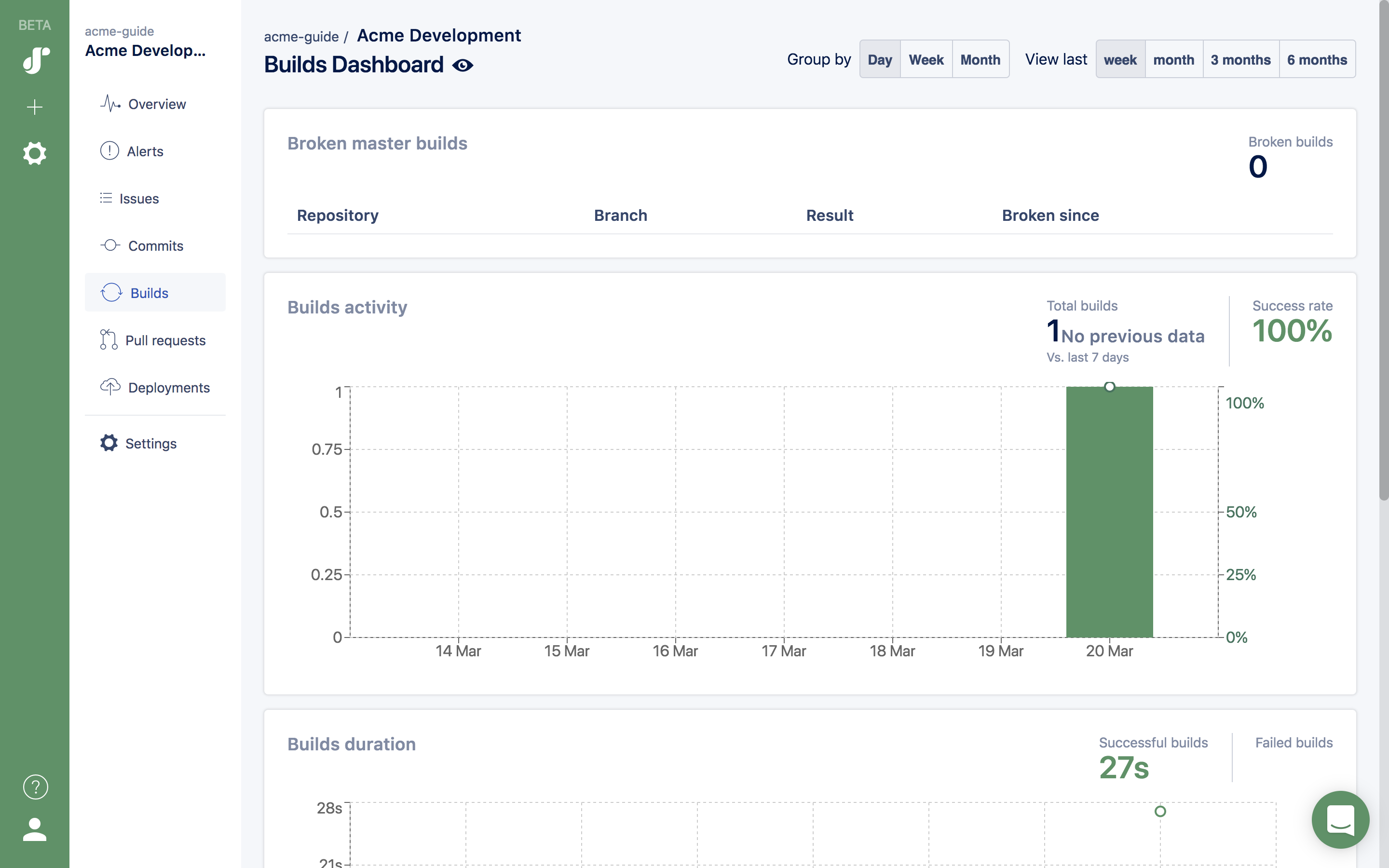 You can add as many repositories as you want to your project. Squadlytics will aggregate the data and show stats across your codebases, allowing you to see it all from one place.
Working with other builds platform
Squadlytics is not limited to Bitbucket Pipelines. Check our documentation to see how you can integrate it with other platforms.
You can sign up for free today and start tracking your builds.
Subscribe to Tability
Get the latest posts delivered right to your inbox