10 tips to get the best out of Tability
See tips and best practices to make Tability work better for you.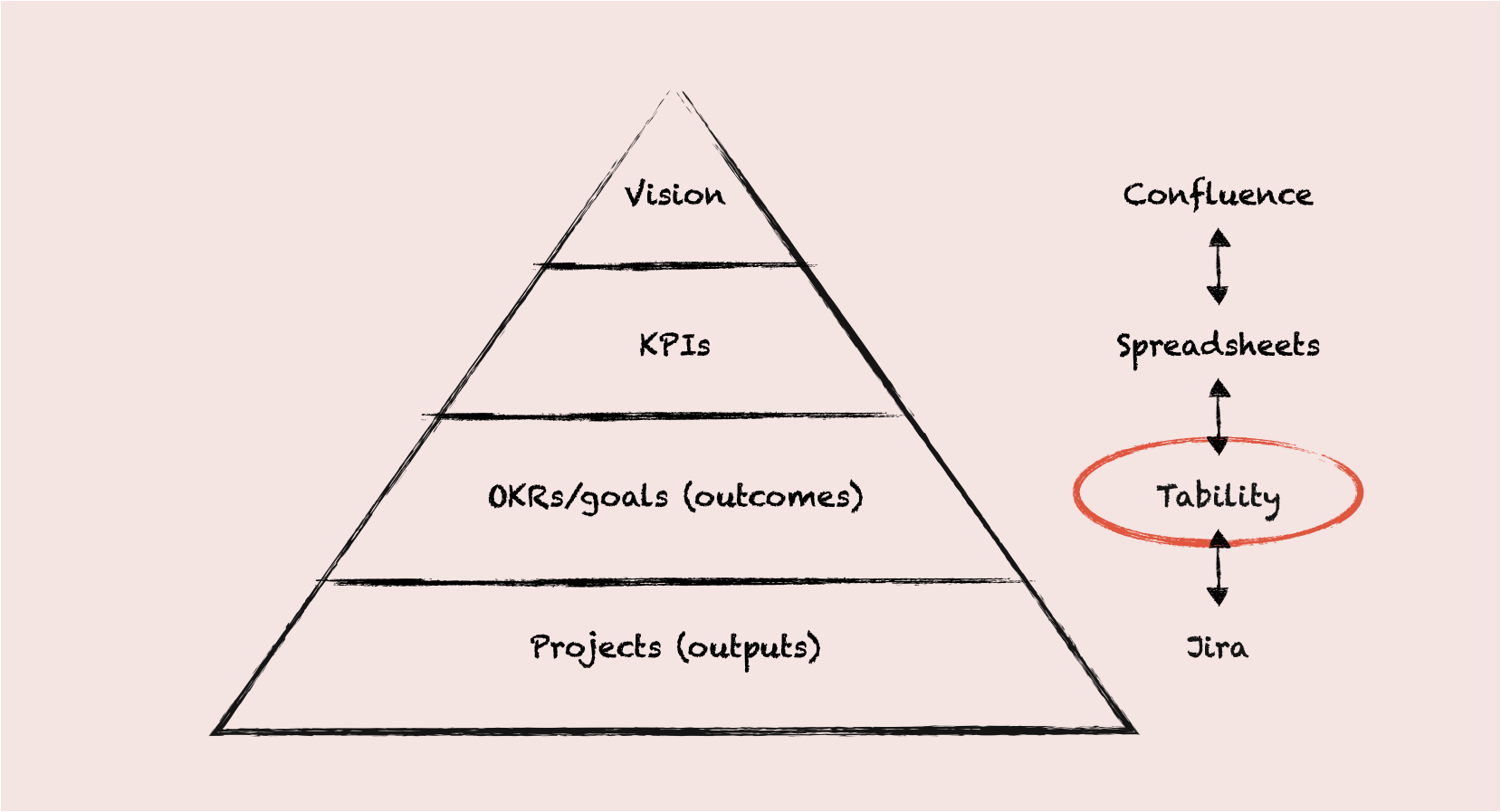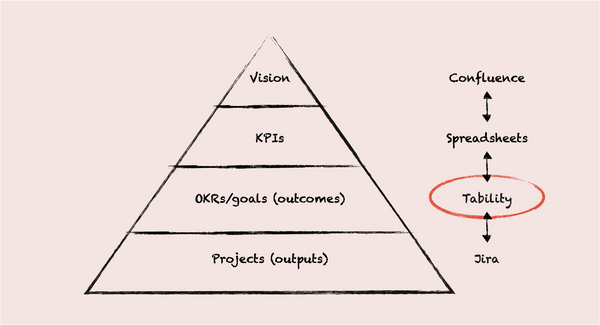 Tability is an outcome-driven platform that gives your team a central place to keep track of progress on your goals.
It's the missing link between your KPIs dashboards and your project management tools, and it will help you drive execution by putting the goals front and center. No more getting out of the loop or losing track of the top priorities—our platform will keep everyone in sync.
Here are 10 tips below to help you get the best out of Tability.
1. Commit to the weekly check-ins
Tability is a bit like a hybrid habit tracker/focus coach. We can't force you to do weekly check-ins, but we highly recommend it to have optimal results.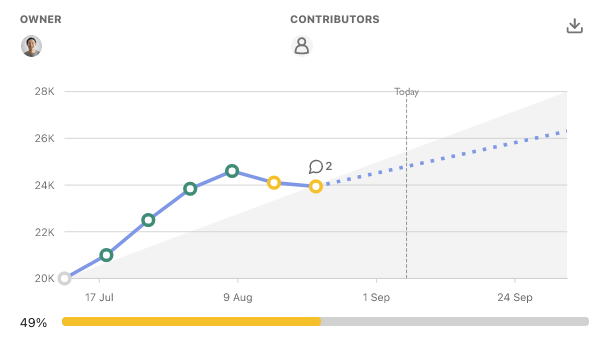 Not because we want to be annoying, no. But because fast feedback cycles on strategy will greatly improve your ability to execute:
The team will always keep the top priorities in mind.
You will get a true sense of progress.
You will be able to rapidly adjust the roadmap before it's too late.
Weekly check-ins are at the core of Tability, and it's one of the key differentiator for a successful implementation.
2. Customise the terms if needed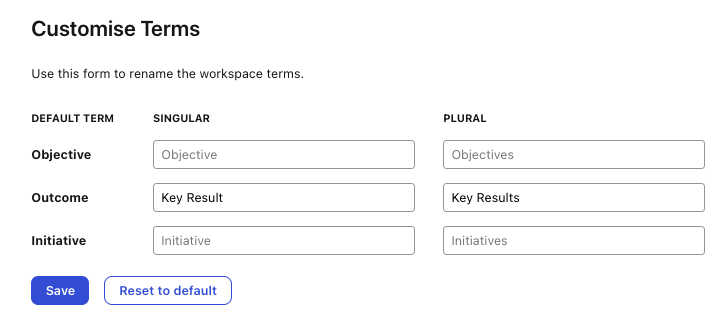 By default, Tability uses the terms Objectives, Outcomes, and Initiatives. You can easily change these to Objectives, Key Results, and Initiatives if you use OKRs.
3. Limit the number of goals in your plans
We recommend having no more than 3 Objectives and 3 Outcomes or Key Results per objective.
The more items you track, the more you'll lower the quality of the feedback. Focus is also very much likely to decrease as people will have to split their attention between competing priorities.
4. Track your actual targets
Tability is a flexible platform that allows you to add your exact target to simplify the check-in experience. You'll be able to set the target to "60 NPS" if your goal is to increase NPS from 0 to 60.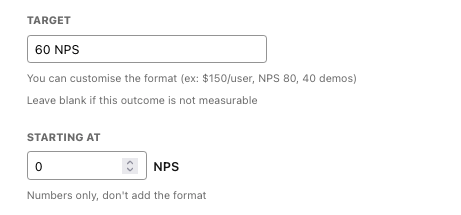 Check our guide on setting targets to take full advantage of the platform.
5. Group your plans by cycle (quarter/year)
It's likely that you'll have multiple teams needing multiple plans to track their goals. To make things easier, we recommend grouping your plans by cycles.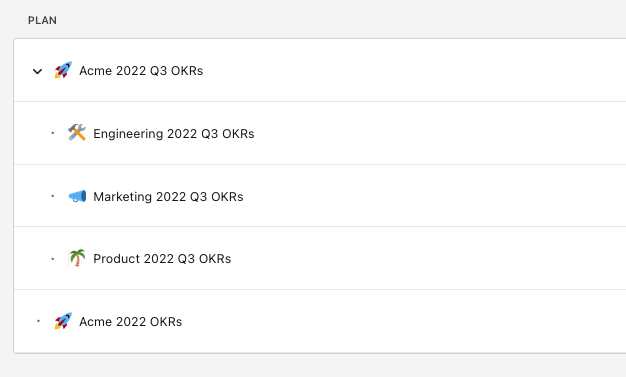 This is the recommended plans structure for a company with a yearly OKRs plan that is broken down into quarterly OKRs for the company and the teams:
---
|- Company 2022 OKRs (top level annual OKR)
|- Company 2022 Q2 OKRs (Q2 OKRs tree)
    |- Engineering 2022 Q2 OKRS
    |- Marketing 2022 Q2 OKRS
    |- Product 2022 Q2 OKRS
|- Company 2022 Q3 OKRs (Q3 OKRs tree)
    |- Engineering 2022 Q3 OKRS
    |- Marketing 2022 Q3 OKRS
    |- Product 2022 Q3 OKRS
---
6. Distribute ownership
Sharing ownership of the goals in Tability will help you build an empowered team. It's a simple way to create a natural accountability, but also to keep people more engaged with the strategy.

This will also allow each individual to write better check-ins as they won't need to rush through 10 or 15 updates every week.
As a rule of thumb, we recommend that users should not have more than 7 KRs to update per week.
7. Bring your entire team on board
Tability is built for transparency and it's likely that you currently have a lot of seats available for the team.
Invite everyone to the platform, even if they do not own any goals.
The more people have access to the platform, the easier it is to keep everyone aligned toward the same outcomes.
8. Have a weekly meeting to review progress
We highly recommend having a weekly team meeting to review progress on the goals.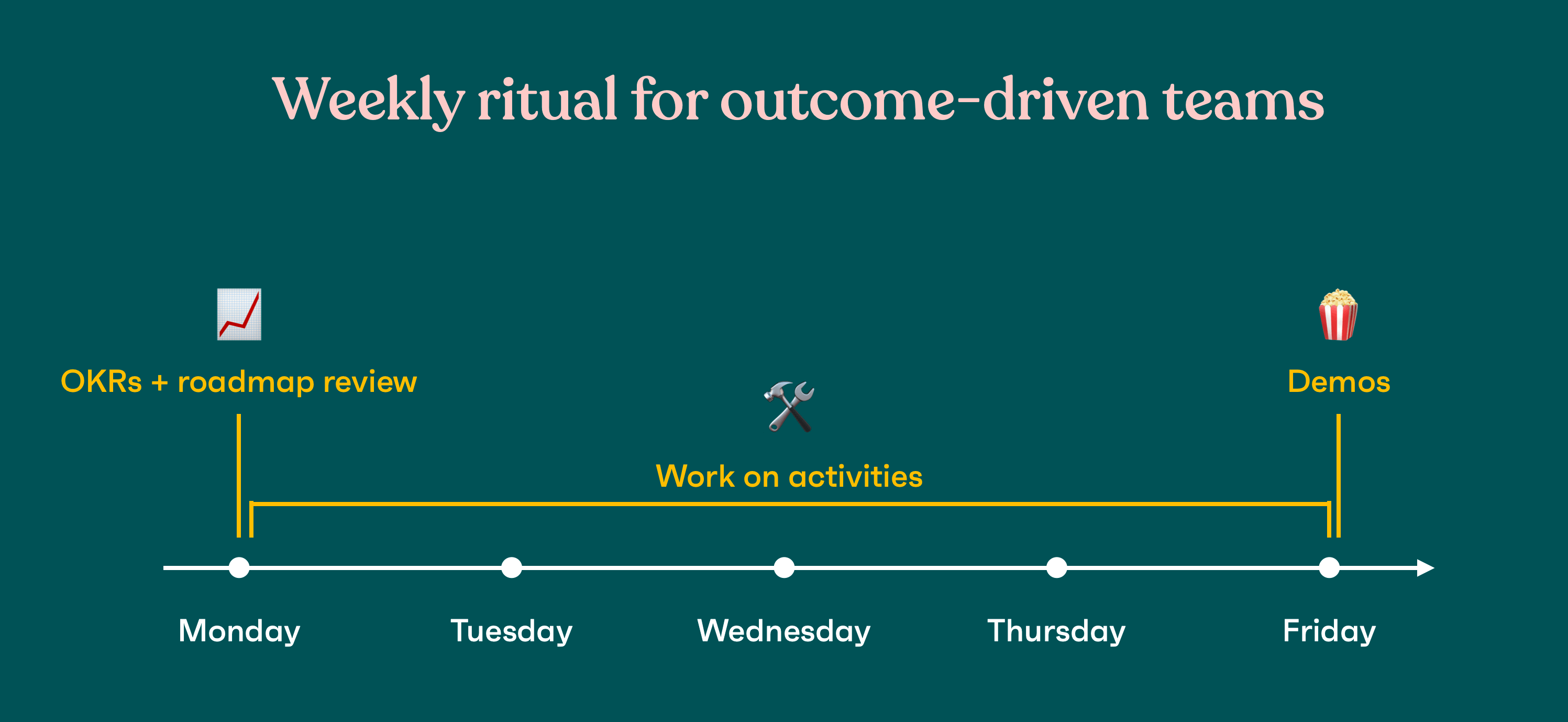 Each team that has a plan (Marketing, Engineering, etc.) should have a face-to-face meeting where they discuss the updates in Tability, and adjust the roadmap if necessary.
9. Write meaningful updates
Of course, the quality of the discussions will only be as good as the quality of the check-ins.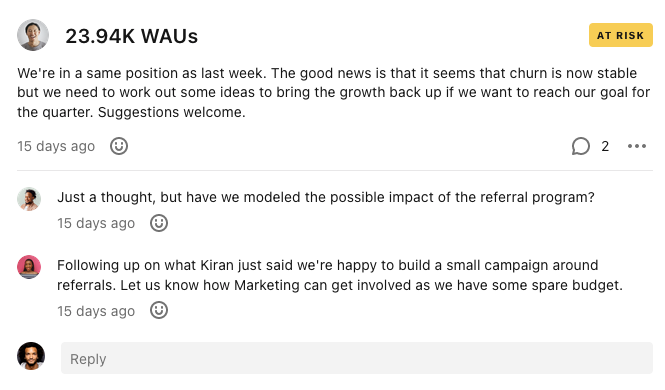 We encourage people to answer the following questions when they write a check-in:
Are we on track?
If not, what could be the cause?
Should we do things differently?
Do we need to involve other teams?
You can keep things light if you're on-track, but you should flesh out your updates as soon as you're feeling at risk.
10. Connect with your existing tools
Tability can be connected to Slack, Jira, Clickup and more to minimise context switch.
Check out our integrations to see how you can link Tability to your existing tools.
11. Join our Slack community
We got one more tip!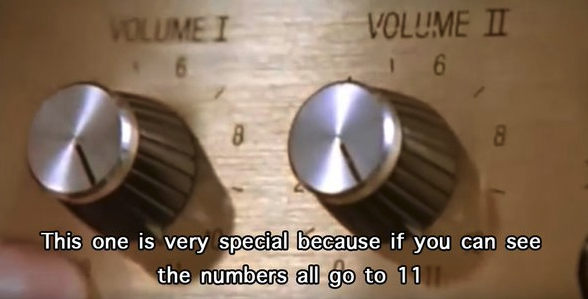 We have a Slack community where you can chat with us, get help, but also meet other users of Tability. Join here!
Resources