Introducing Retrospectives: Why reporting is a crucial part of the OKR process
We just launched our new feature Retrospectives, so that you can pull live data and give your analysis in context to create beautiful, easy to share reports right in the Tability app.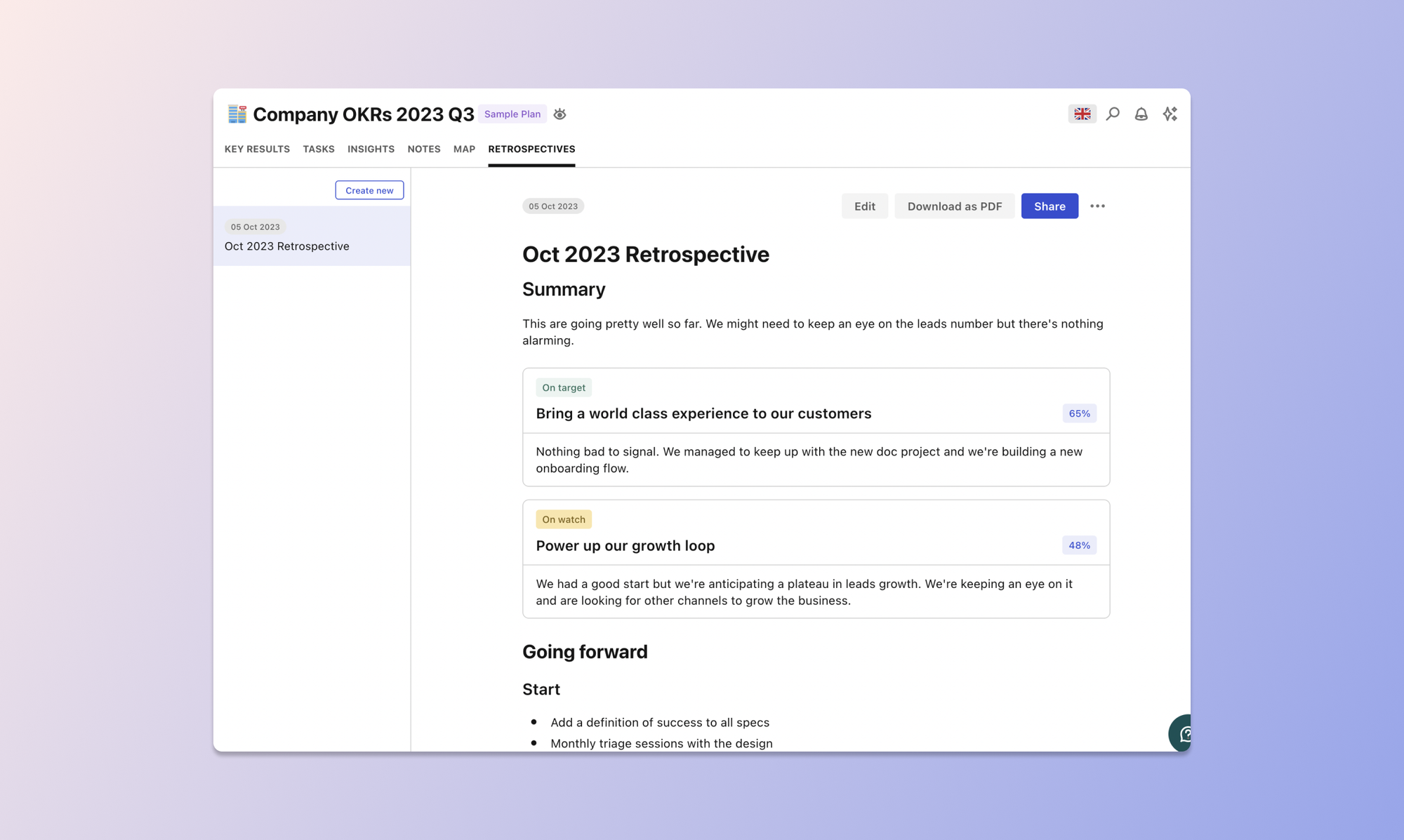 In the world of OKRs (that's Objectives and Key Results), there's a common cycle: you plan, work towards your goals, and then take a step back to reflect.
Reflection is a crucial part of the OKR process where you share your hard-earned progress. It's about getting your data ducks in a row, analyzing what it all means, and then making it look pretty and understandable. Most importantly, you need to communicate it to the right folks, which might mean sending emails or sharing links to documents. Creating great reports a bit of a chore, but it's how the magic happens.
The beauty of this process is the reflective part. In a retrospective, you're not only sharing your thoughts and dissecting the data, you're also thinking back like "what could we have done better?" You ask yourself if you're actually hitting your goals, what you've accomplished, and whether those goals are still the right ones. It's about taking a step back, looking at the big picture, and learning from your experiences.
With Tability all of this becomes a breeze — and even more so with our latest feature: Retrospectives.
Learn more about our new feature here in our latest Feature Roundup! 🤠
---
New Features ✨
What's good and new in Tability? You can always see what's new and what's on the runway by looking at our open roadmap. Here's a quick review of the new features we have for you this week.
Retrospectives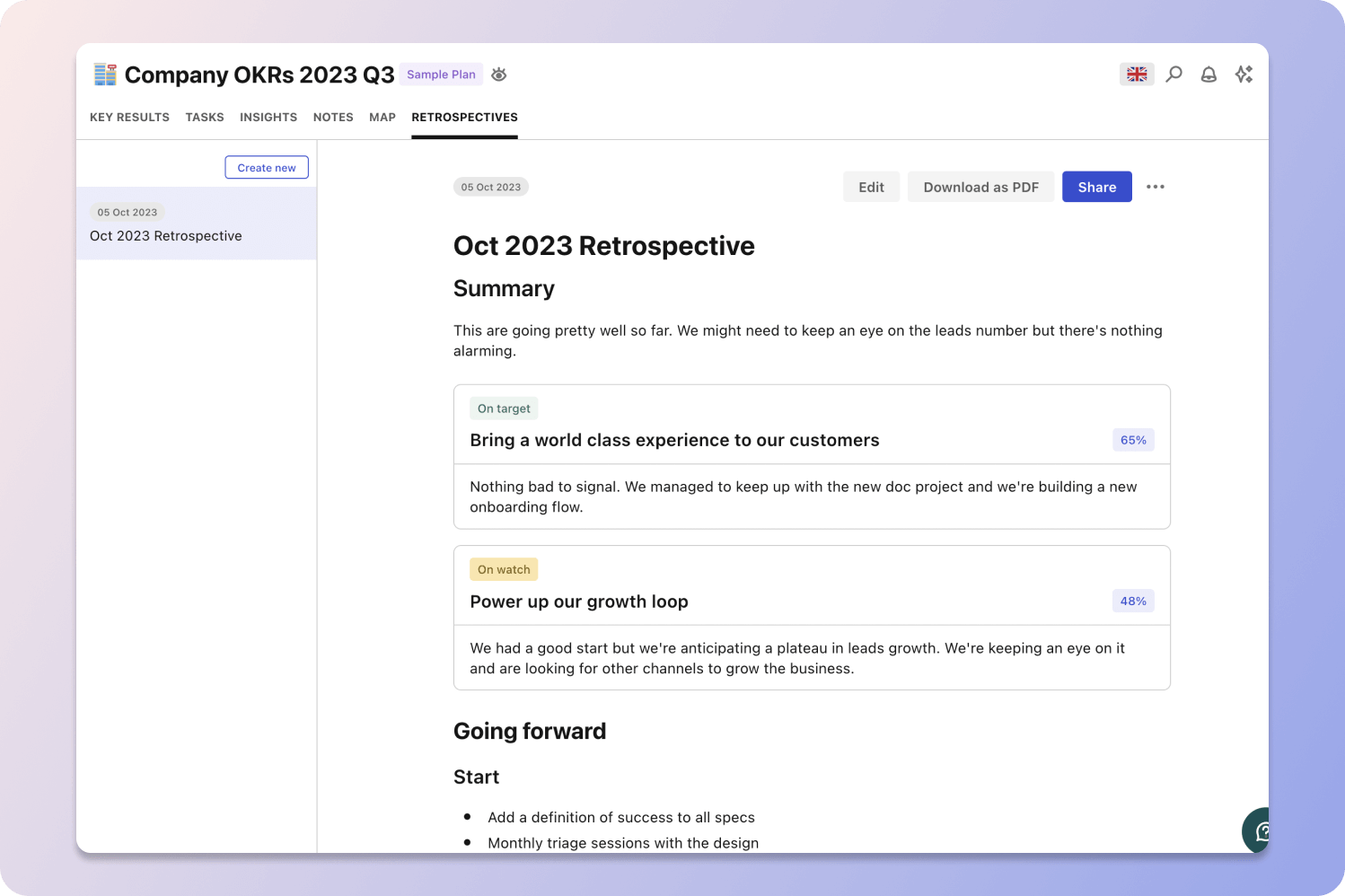 Monthly business reviews are going to be much easier!We have just launched a new retrospectives feature that lets you take a snapshot of your progress and add notes that you can share with your team.Some highlights:
Tability will automatically populate your draft with a template that includes your objectives.
You can download a PDF in 1-click.
You can enable public sharing, and send a link to your team.
Learn more in our documentation.
⚠️ Retrospectives available to Premium subscriptions.
---
Improvements 🌈
Small changes we made in the app this week.
Improved
You can now restrict plan permissions when creating a plan.
Outcomes have automated colored labels in the Kanban to help you identify relevant items faster
Initiatives now show the state picker in your Home.
Fixed
We fixed a bug causing the mobile application to crash on the home screen.
Fixed bug making the profile pages crash in the web app
---
Customer highlight 😇
We don't do this enough, but we love to highlight our customers whenever we can. We know that OKRs are hard, and running a successful business is even harder. We love hearing from you how you're using Tability, what you love about it, and most of all, what can be improved!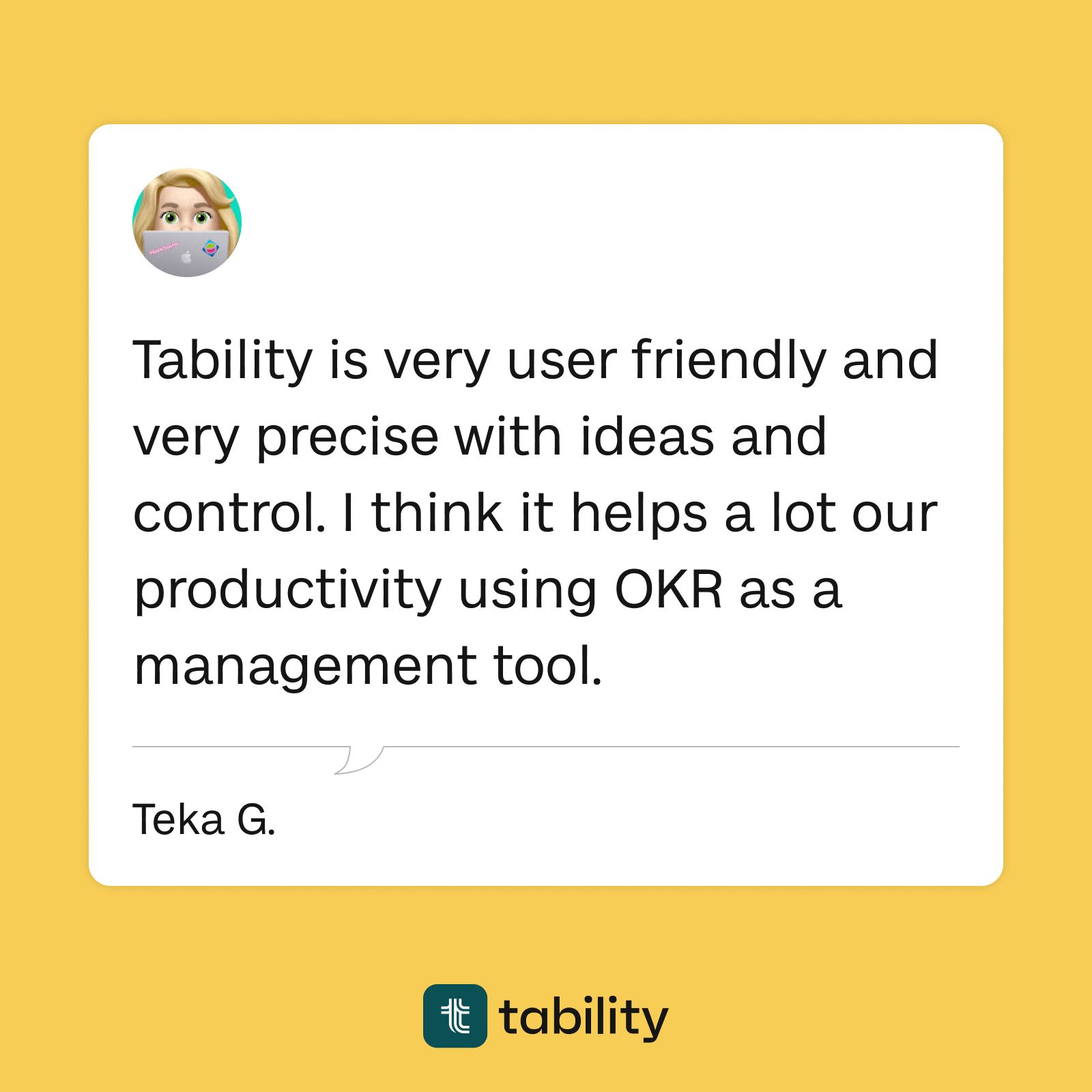 One of our customers, Teka, has found Tability to be a "life saver" — her ability to find the right progress data faster through Tability has saved her time looking for the right progress data. Tability's user friendly interface has made it so her team can stay productive using OKRs as a management tool.
Thanks Teka for the glowing review!
---
Let's chat 💬
If you're looking to chat with other like-minded people about OKRs or Tability, join our Tability Slack Community. You'll be able to chat with Tability founders, the team members, consultants/OKR experts, and hundreds of other customers.
Like always please feel free to email us at [email protected], chat to us in the Slack Community, or contact us through our intercom chat. We are always looking for feedback and ways to chat with you.
Until next time!