Generate SMART goals with AI
Starting with a good goal increases your chance of completing it. Our brand new Tability AI can guide you to writing better goals to get more goals accomplished.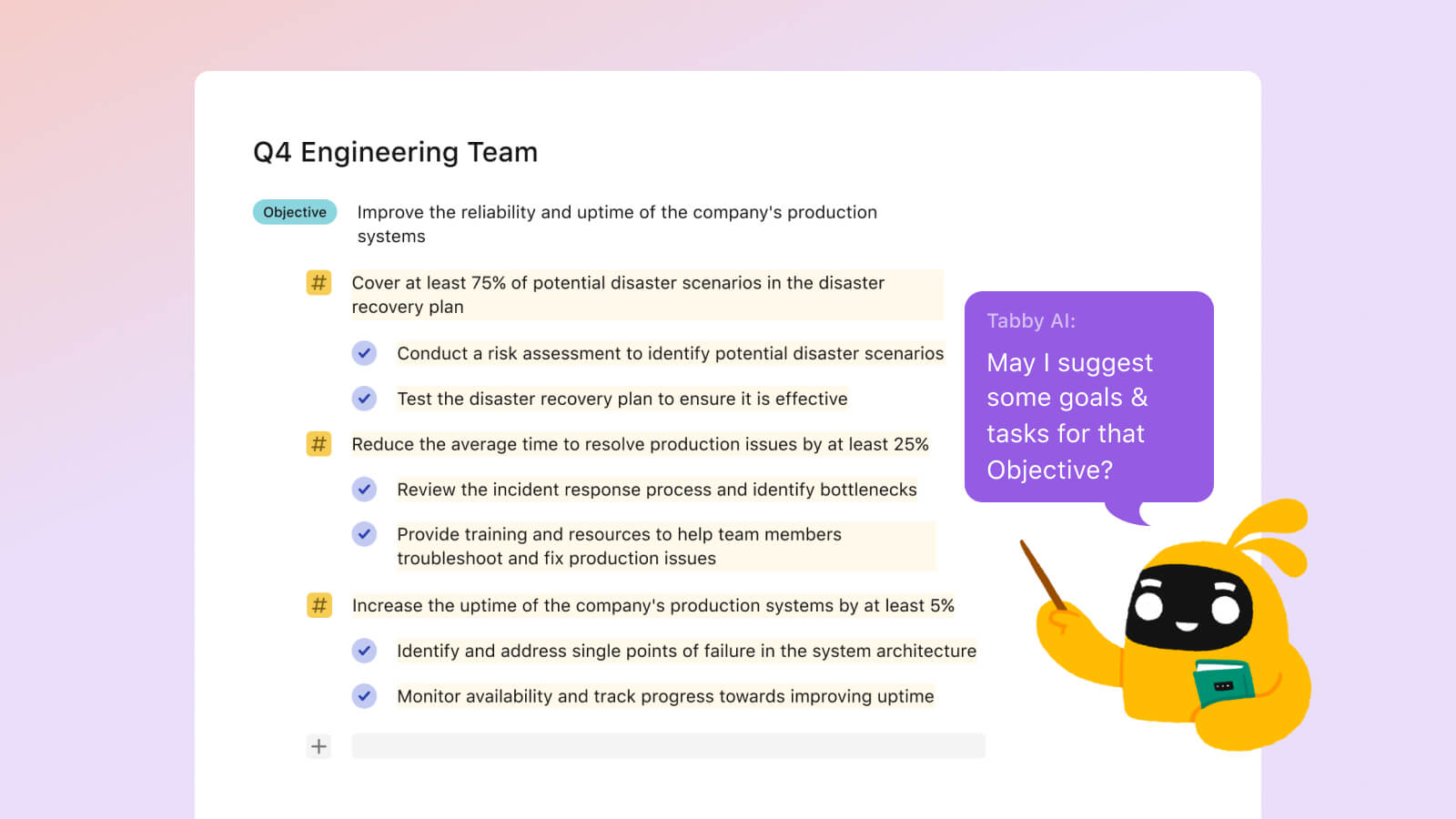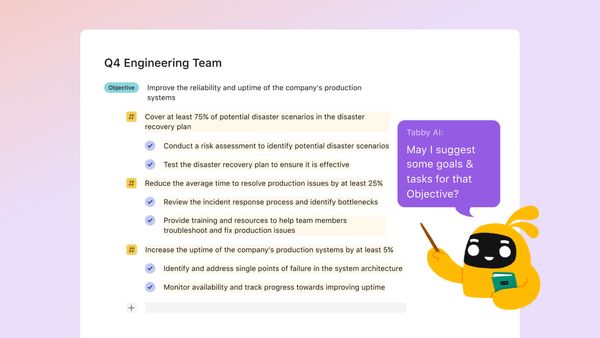 Need a complete tutorial? Follow the steps in this guide.
Starting with good goals will increase your chances of completing them too. So it's not a stretch to say the biggest challenges when it comes to goals or OKRs, is that it's not always easy to know what a good goal is. As much as a product or good resources or templates can help you write good goals, at the end of the day, they're unique to YOU and your company.
Nobody knows you or your business quite like you do. So our job at Tability isn't to create perfect goals for you, but make it as easy as possible for you get from that vision you have to making it a reality.
That's why, today, we're introducing our new goal-setting AI. It takes your objective and generates SMART measurable goals that will help you make it reality.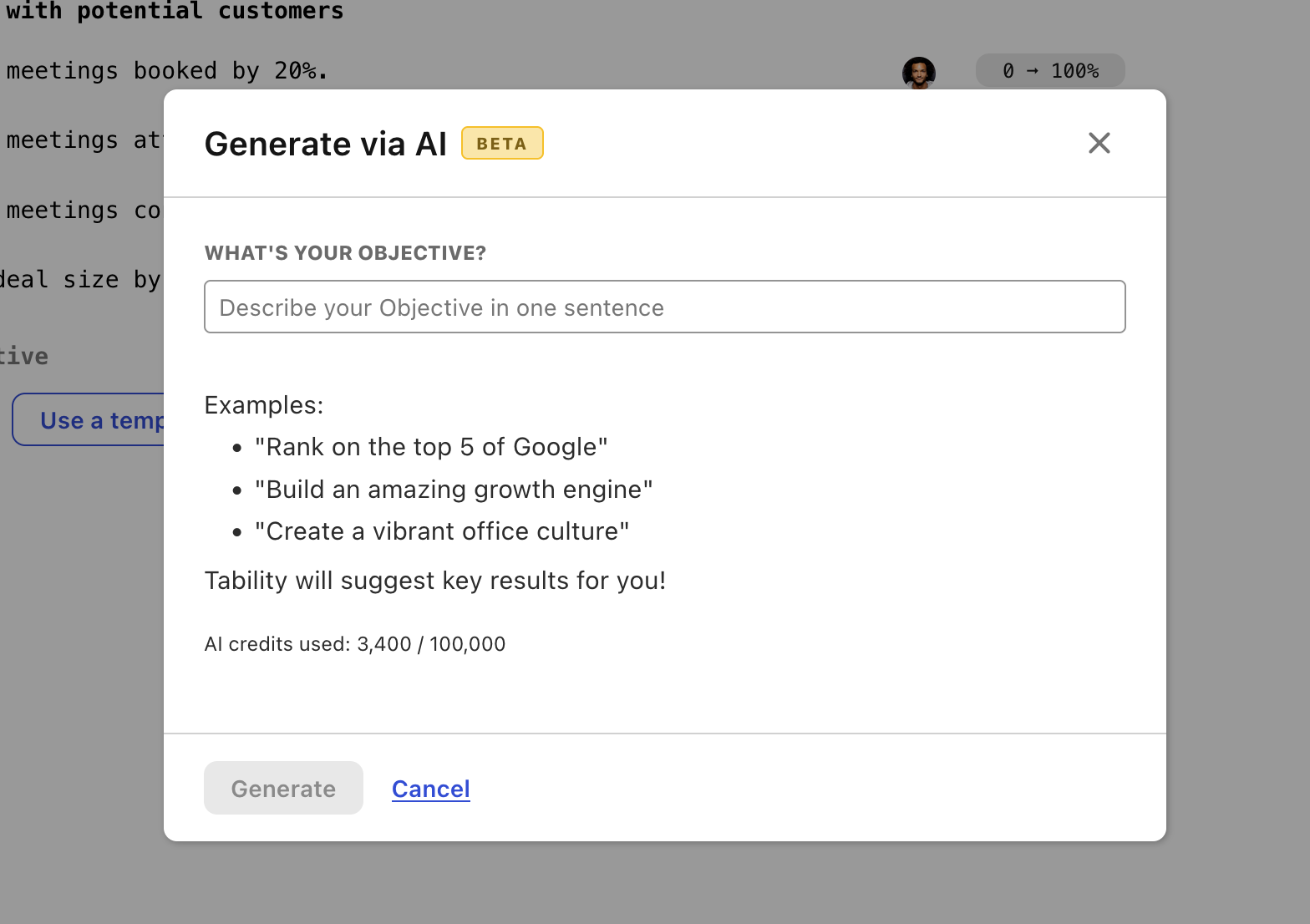 Here's a demo:
Now you can literally create a plan in under a minute. All you have to do is type in a goal or Objective and it will auto-suggest some metrics to help you measure it.
For example, if I enter an objective, "Generate more leads  through content marketing." Here's what you'll get (actual results from our app):
Improve organic keyword rankings by 20%
Increase organic search impressions by 30%
Increase leads generated from email campaigns by 20%
Grow the number of blog post views by 25%
Now, we know the results are not perfect and it will require some adjustment. The goal of the AI is to give you a good outline for your strategy, from where you can match it better to your business needs. Writing good key results is not easy, but at least getting structure and some ideas for metrics is a great place to start!
Going further
Here are some posts that can help you boost your goals with AI:
Try the Tability AI now
Go to your workspace and try it now by editing your plan or creating a new one.
---
That's all for now! Please reach out or add your suggestions directly to our public roadmap if you have feedback or questions. You can even vote for features already planned to expedite them. If you want to chat to us directly or connect with other users, you can also find us in the Tability Slack Community.
❤️ ❤️ ❤️