Tability Feature Guide: 5 Features that make OKRs easy
Getting started with OKRs can be hard - Tability makes it easy, and these 5 features help you get the most out of your Objectives and Key Results.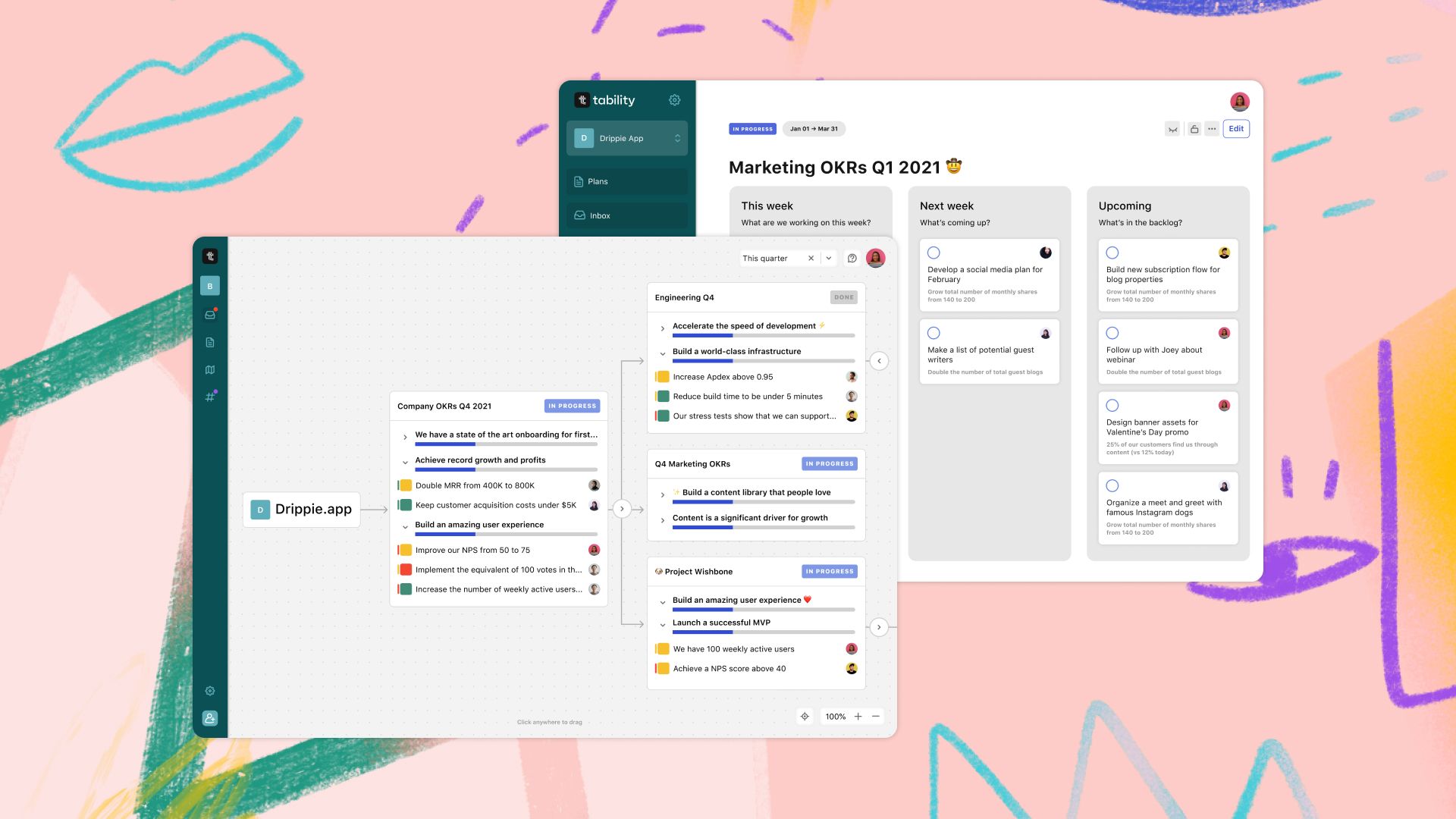 Getting the hang of OKRs is hard. You probably won't write great OKRs right away, and will most likely have a lot of trouble getting your team to adopt them right away. With persistence, it does get easier.
Even better, with the right tools, you can really fast track your way to succeeding with OKRs. There are just some things that a spreadsheet or a word doc can't do. (see: Get your goals out of spreadsheets!)
Here are 5 features in Tability that can really power up your OKRs experience.
Strategy Map
When your org has multiple teams or divisions, it's not always easy to track progress and see connections between the work your team is doing and another. You may even have a company-level plan or OKR that your work is suppose to feed into. This is where the Strategy Map can come in handy.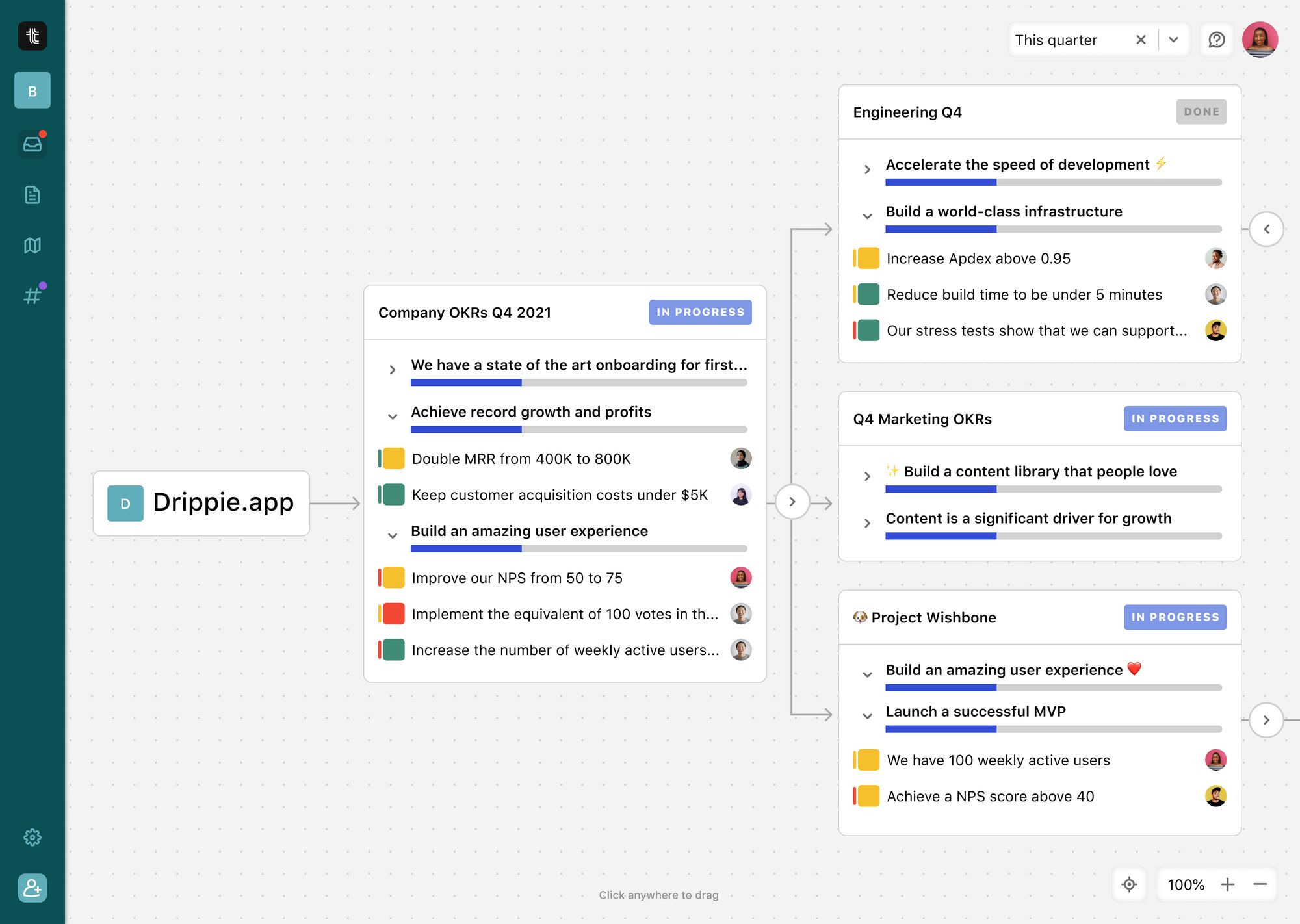 The beauty of the Strategy Map is that it isn't just a view to see connections, you can do your check-ins or view details and progress from this view as well.
Templates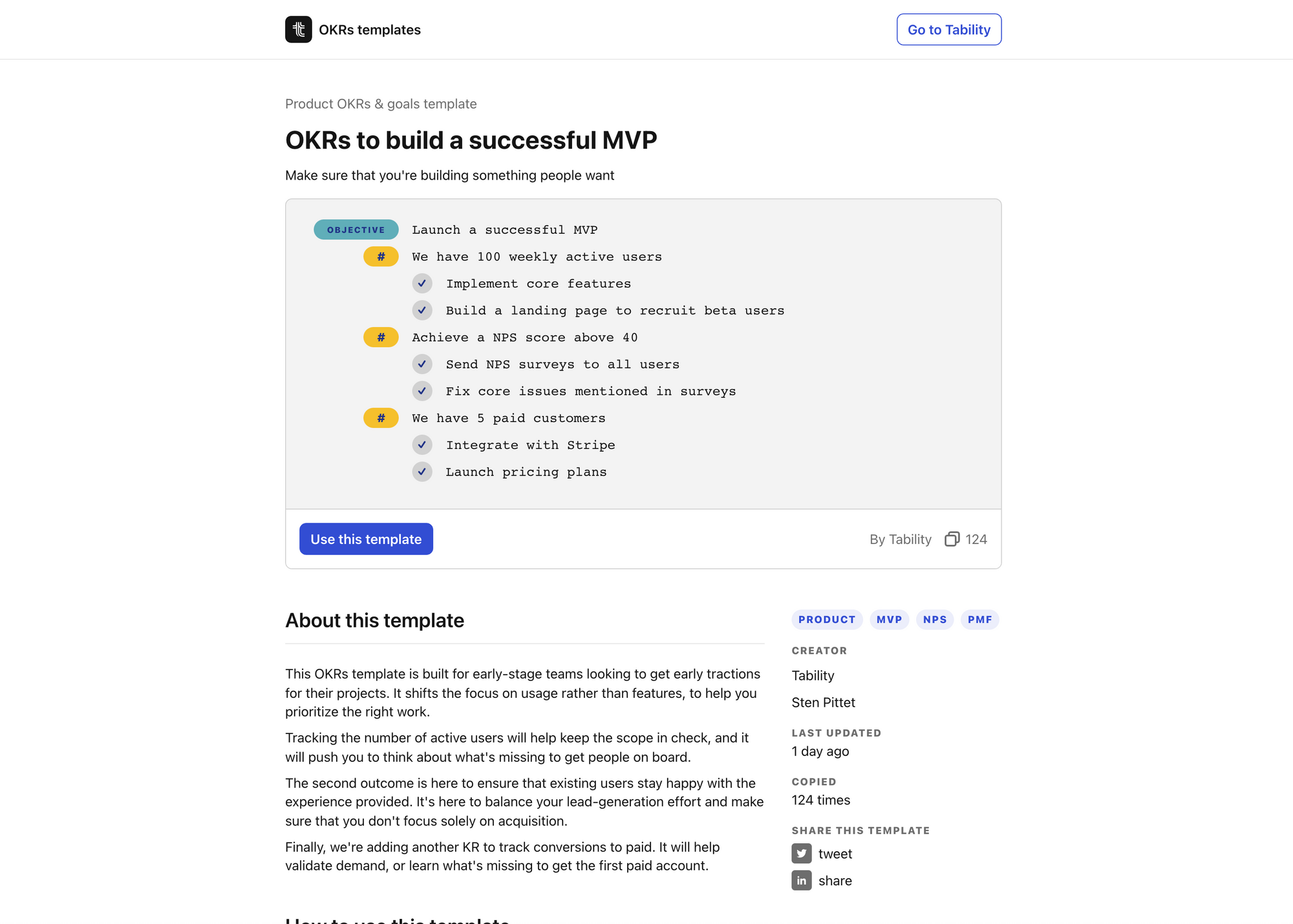 The most difficult thing about OKRs is knowing how to do OKRs. What is a good objective? What are good outcomes to track? How should I structure my OKRs?
A quick fix is that is to start with a template.
Our templates library features OKR examples that are used in real life. You can browse through them to see how OKR pros structure their plans, how they write their objectives, and what kind of metrics they track.
You can use this as inspiration to write your own plan, but the real power comes in the ability to just cut and paste them straight into your plan.
Editor for OKRs + task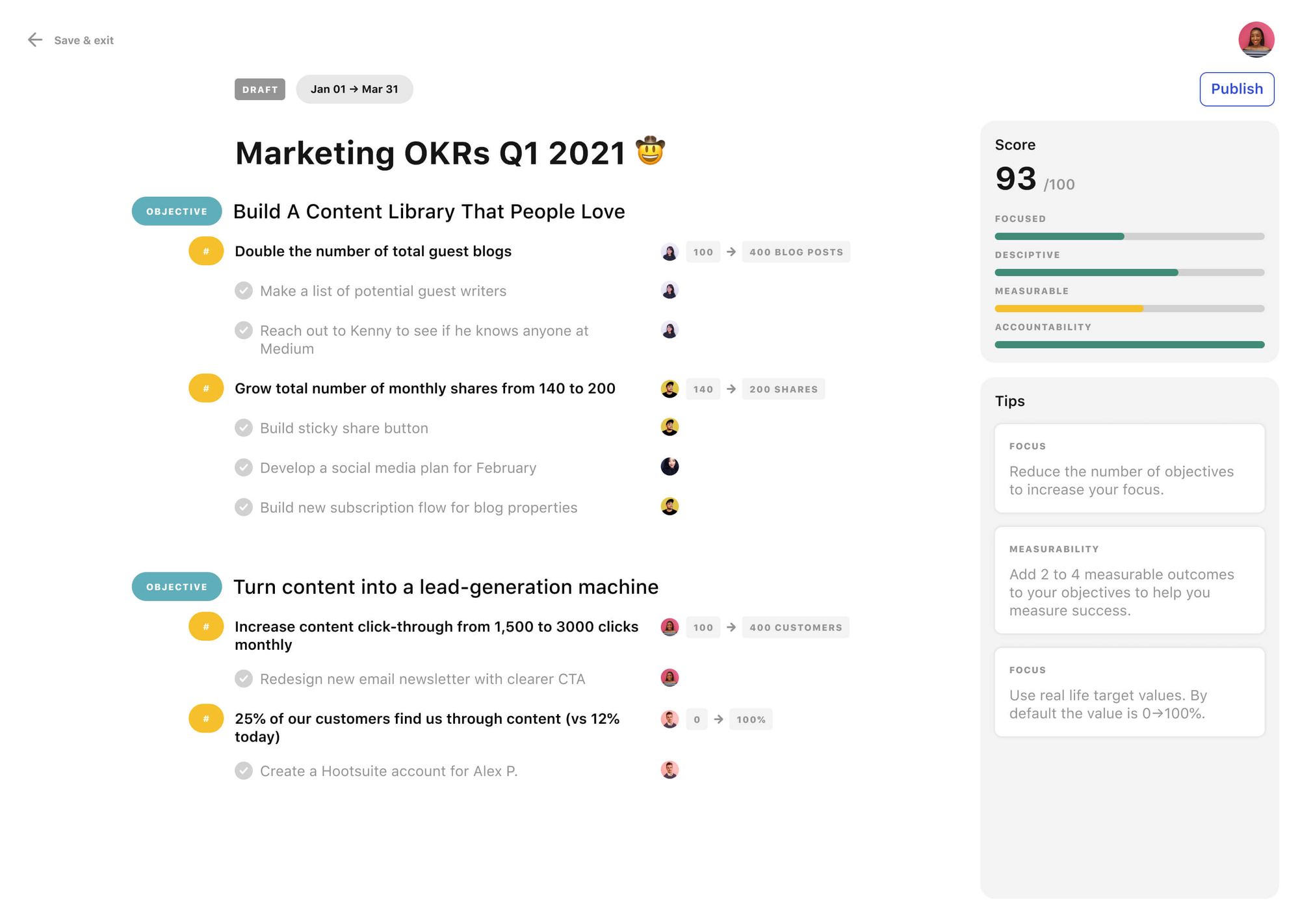 Now whether you started with a template or from scratch, the plan editor is a beautifully simple place to organize your thoughts into a cohesive plan.
For most of us, OKRs and strategy planning doesn't happen in an app – it usually starts in a word doc, something flexible, structure-less and easy to just start writing. We tried to emulate that in the editor by stripping everything unnecessary, keeping the simplicity of a word doc but still including helpful tools to power up your doc.
Here you can structure your goals into Objectives, outcomes to measure them, and organize the tasks that will help you make that progress.
Check-ins with progress chart
Tability doesn't exist without it's check-ins. It's the key to turning your OKRs from a dusty old page to the masterplan that drives the success of your business. Doing regular check-ins makes sure that you're keeping your main objectives top of mind and correcting course if needed.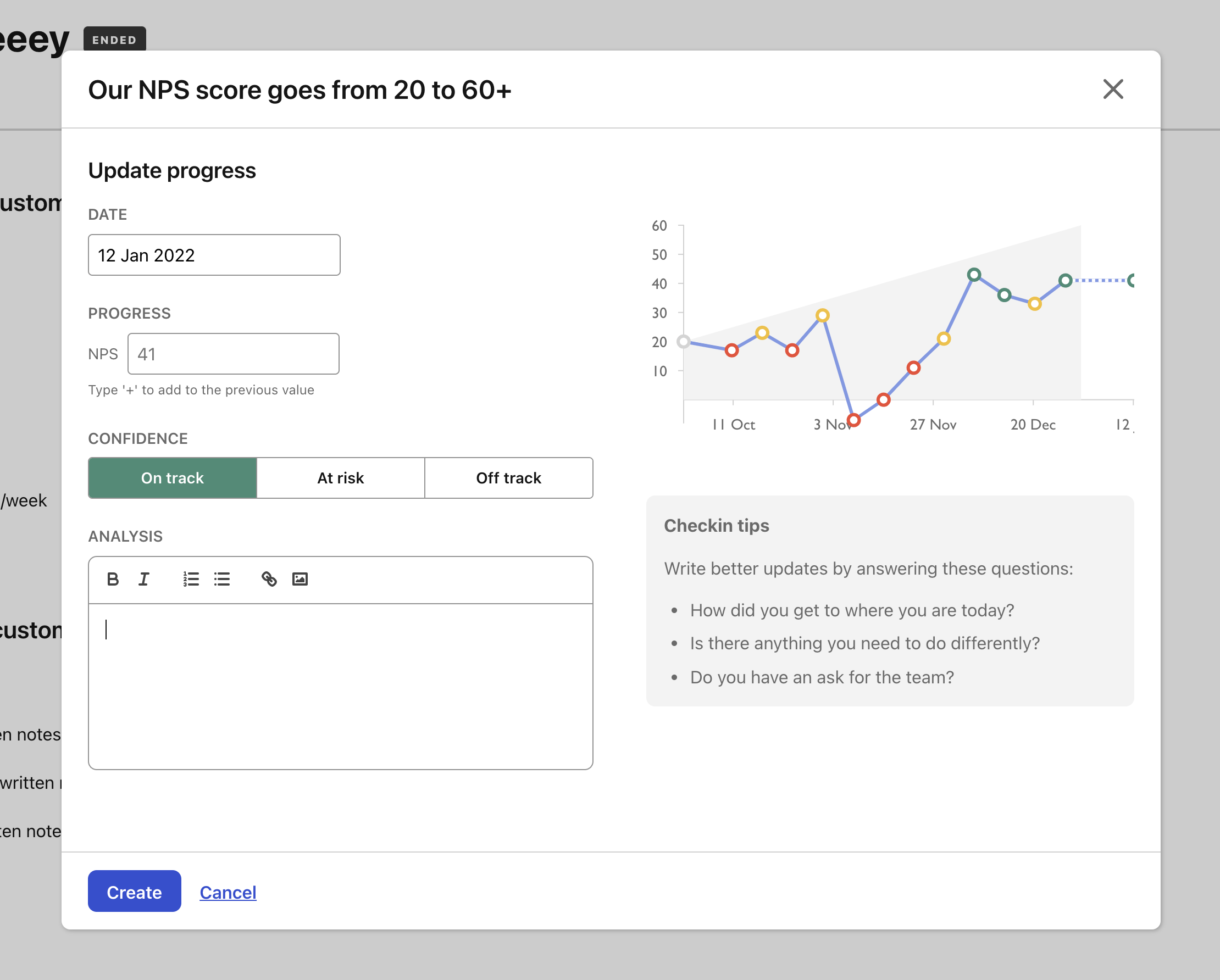 Check-ins in Tability help you give a written history of the progress you've made from start to finish. You can click on each week and see where you were, what the challenges were, and what we worked on that week. This comes especially handy when there's a spike or sudden drop in the graph – you can click on it and remember 'oh right, it was the week of Christmas and thats why nobody signed up that week!'
Now we know your team doesn't want another form to fill out at work, so our goal with Check-ins was to make it as easy as possible.
Your Progress Metrics will automatically fill in with what you had last week. If it hasn't changed, you can just leave it as is. If you're not good at maths, you can put a + in the field followed by how much your number grew by and we do the math for you.
Confidence is simplified to 3 options – we give you suggestions based on your trajectory, but Confidence is based on your feeling on the progress. A number only tells part of the story and your human input helps complete it.
Our Analysis field is where you give that story, but you can also attach images or add links, to give context and visual aid.
Task board
Tasks are an important step toward improving your metrics. It's important to know what your objectives and outcomes are, but you need to build a path to get there too. That's where you can head to the Task Board to help you map out your game plan, week to week.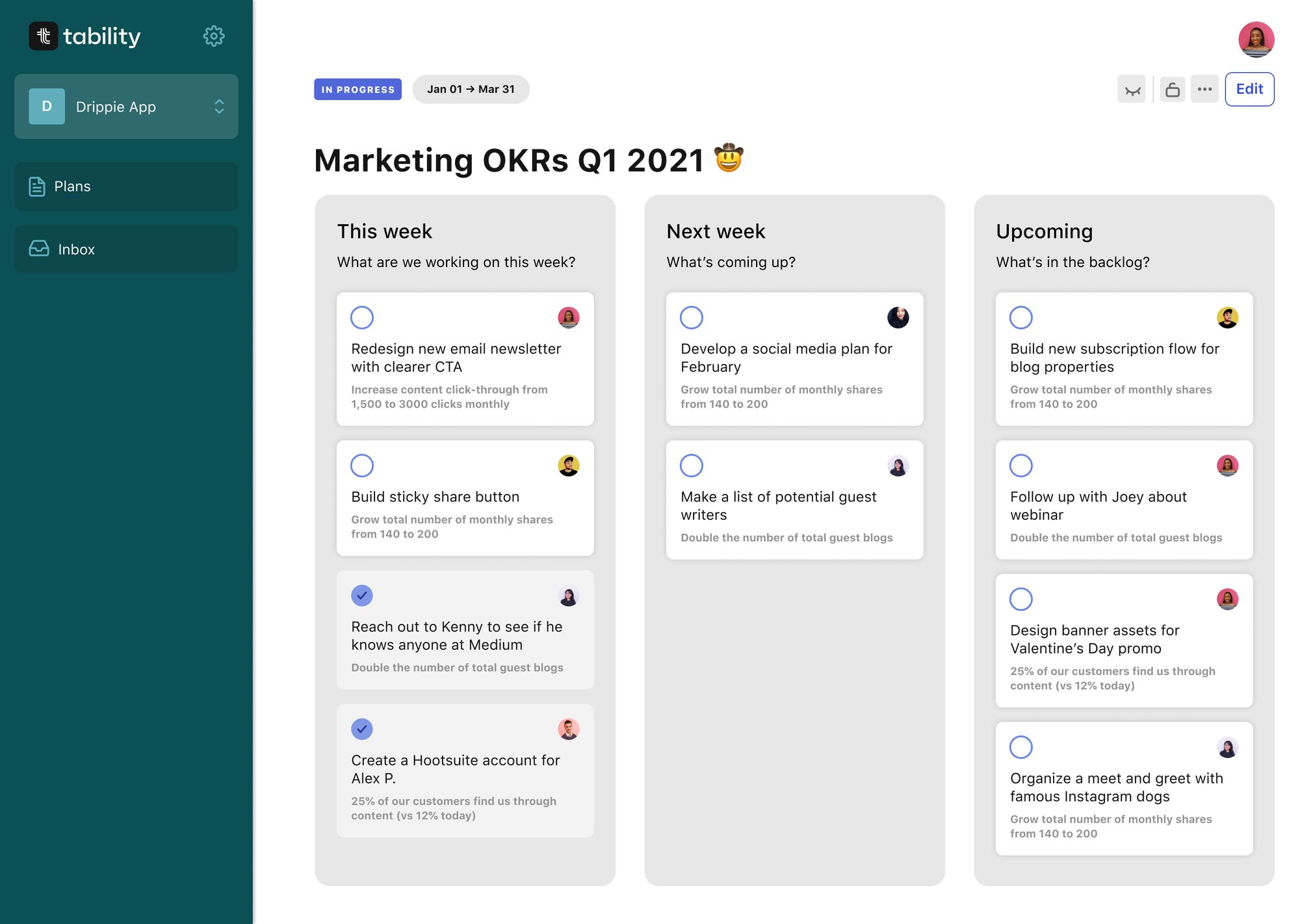 The Task board is split into three columns: Now, Next, and Later (Read more about why we recommend Now, Next, Later Roadmaps). On the surface, this a very simplified roadmap and task board, but what's cool is that it's automated. When something gets put into the "Next Week" column, it'll show up in your Inbox next Monday along with anything you didn't get to this week.
---
Want to see more of what Tability has to offer? Book a free demo with us! We can help you get set up with OKRs in a way that really works for you.