Thank you! 🥰 (Y22Q1 update)
Take a look at the big rocks that we tackled around scale, initiatives, and collaboration.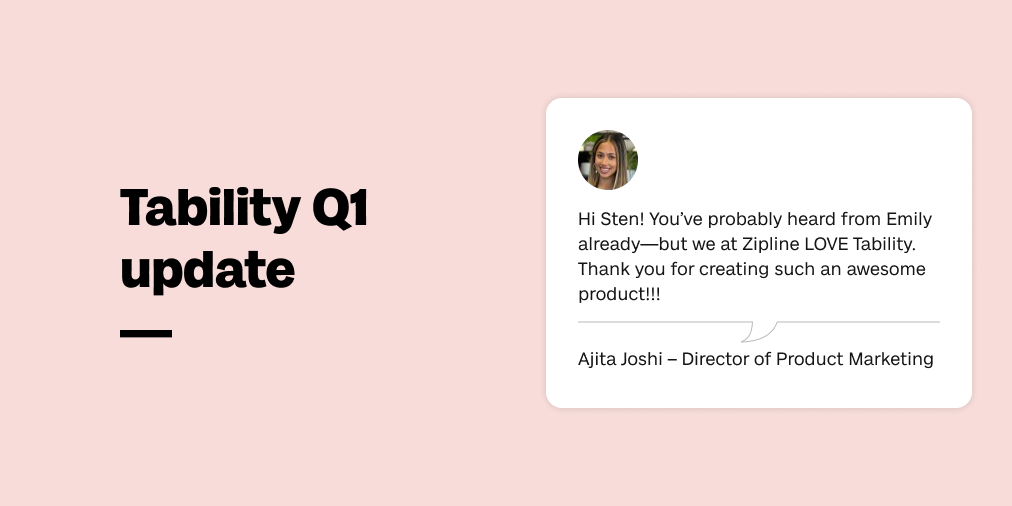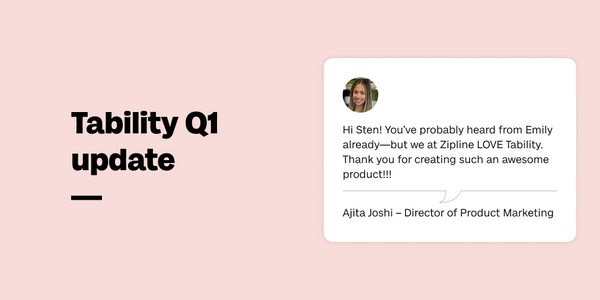 Want a personal tour of the features? Just schedule it here.
Q1 just flew by.
In the past 3 months, we published 26 new features, shipped 100 more small improvements, listed 70+ experts and added a dozen more templates. It's hard to look at a specific item in the backlog and predict its impact—but it all makes sense when we get positive feedback from our customers.
So first, thank you all for the happy notes and great suggestions! 🙇‍♂️
There's nothing more important for us than giving a great experience to our users, and we've been working hard at it in Q1.
What happened in Q1 🎉
We can group the Q1 priorities into 3 buckets:
🚀 Better scale: making Tability better for large teams
✔️ Better initiatives: improving initiatives management
🤝 Better collaboration: having better feedback loops
🚀 Better scale
90% of the people onboarding Tability have mentioned that they picked our platform because of its simplicity. A big challenge for us is to keep things light, while supporting the growth of our customers.
We knew we had to revisit things to enable focus at scale:
We added workspace discovery to allow people to find all their org's workspaces after signing up. It stops them from getting lost during the onboarding process, and we highly recommend that large teams turn that feature on.
You can now rename the workspace terms to match the terms used by your team (ex: rename Outcomes to Key Results).
It's much easier to manage content: you can move outcomes and initiatives between plans, lock editing of the content, and archive your old plans when needed.
You can skip check-ins if updates aren't required to make the red dot disappear until the next check-in cycle.
✔️ Better initiatives
We started Tability to provide better ways for teams to focus on outcomes. But it quickly became evident that we needed to bring outputs into the picture to map strategy to execution.
Here's what we did to bring more value to our initiatives management module:
You can see all the initiatives across your workspace and use filters to focus on the items you care about.
You can now set and view due dates directly from the plan editor.
Your personal inbox will show all the tasks that are currently active, instead of just the tasks pending this week.
We revamped the daily focus emails to give you a better sense of progression and show you all the work you committed to.
🤝 Better collaboration
OKRs (and goal-setting frameworks in general) only work if there's a good collaboration layer on top of it. Progress on goals needs to be shared, discussed, and debated. It should be possible to understand what bets a team is making, and how they relate to the current strategy:
A new presentation mode makes it easier to discuss progress in team meetings. You can also send a private preview link to external stakeholders.
You can add collaborators to outcomes and initiatives to see who else contributes to a goal or piece of work.
You can now provide better context with plan notes and outcomes descriptions.
You can see all the users in your workspace and navigate to their profile dashboards to see their focus.
See the full list of improvements in our changelog.
A promise 👊
We're proud of what we achieved this quarter, but we also know that a lot more needs to be done.
We'll continue our scale effort this quarter by adding more ways for you to categorise content and personalise the views (and save filters!). We're also adding more integrations and will soon explore the concept of teams.
We love feedback! So don't hesitate to reply to this email with your suggestions, or you can join our Slack community to talk to us directly.
See our public roadmap online.
A small ask 🙇‍♂️
It's not a secret that we're bad at Marketing 😅
Most people find out about us through word of mouth, and that's something we cherish because it means that we're not too bad at creating a product that others would recommend.
It would mean the world to us if you can either tell your friends/twitter about Tability or write a review about us on G2.
Thanks a million, and until next time!
Sten