What do Atlassian and YC have in common?
Atlassian and YC have a lot of smart folks, but they also do something simple to keep the momentum up and help their teams deliver their best work.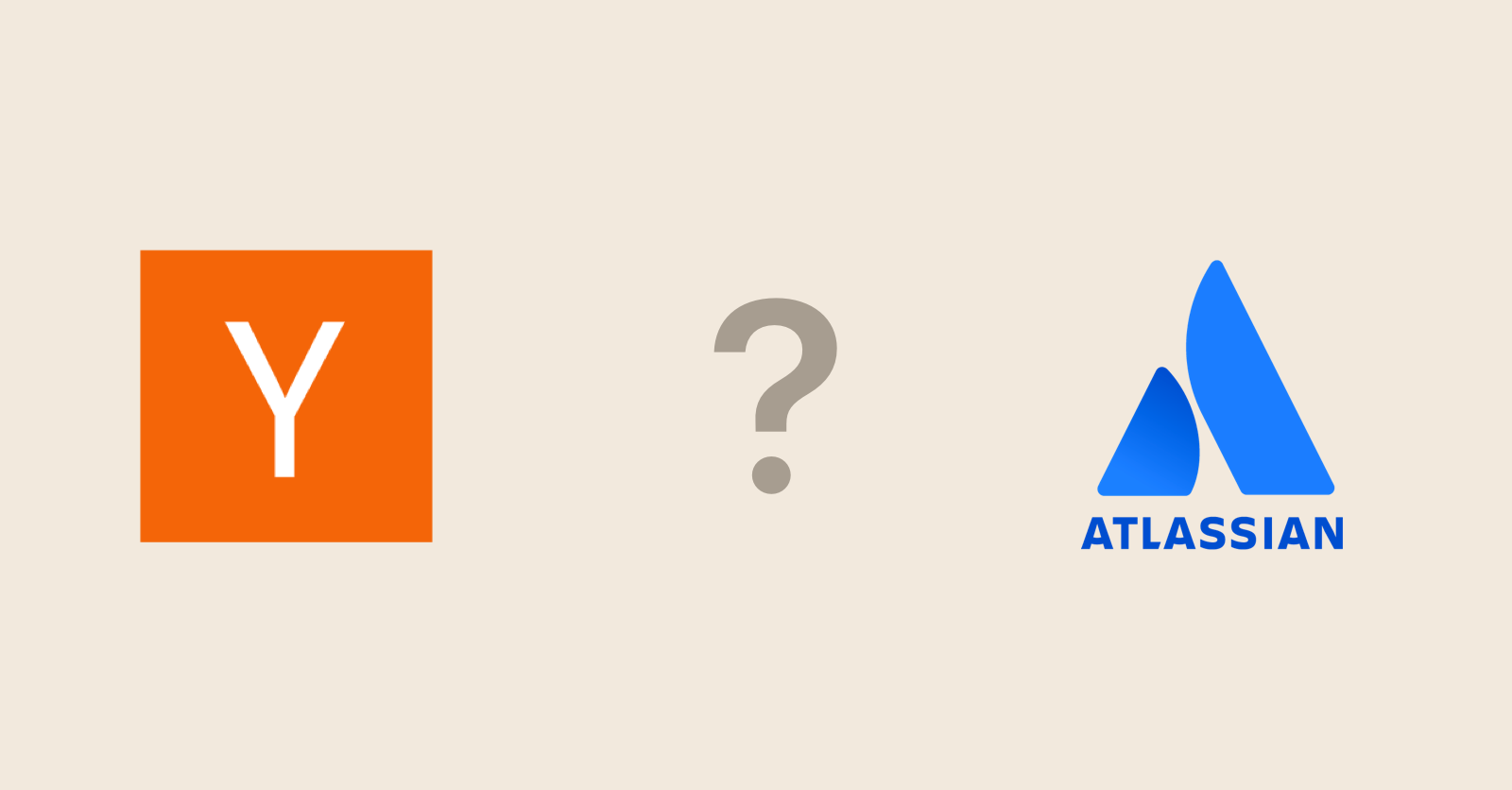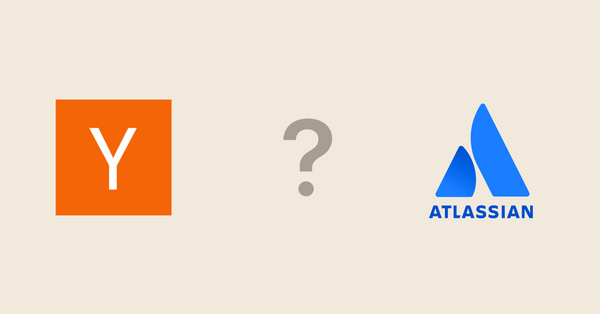 "Hey Sten, are you on track?" - Scott Farquhar
After working at Atlassian for five years, I'm finally going to attend their Summit as a customer. I'm writing this sitting at a desk in my hotel, and honestly, I can't wait to get out and meet my former colleagues. But last week I also started YC's Startup School with Squadlytics, and an exciting connection popped into my head.
Of course, these two organizations have a lot of smart folks, but they also do something simple to keep the momentum up and help their teams deliver their best work.
They ask for weekly updates on your goals. And it's exciting because that's what Squadlytics is all about.
Atlassian - Giving you a sense of urgency
Lets go back in time a bit. In 2016, I was working on the launch of a new service for Bitbucket. We were building it from scratch and it was exciting, but also very risky. Soon after we received the green light, I got a small request from Scott, the co-founder of Atlassian. He wanted me to send him an email every Monday to update him on our progress.
So, every Monday, I would look at a few metrics, and write bullet points explaining where we were at, how we were tracking, and what we were doing to move faster. The simple act of having to tell how much we managed to move the needle was a powerful catalyst to keep us focused. You'd notice early if you were stalling, and you'd be quick to find ways to remove the blockers.
It's during that time that the idea of finding a better way to track projects sparked in my head. The updates were really good at keeping me on my toes, but doing that via email sucked. Threads are hard to read, hard to share with the team, hard to search, and history gets fuzzy.
Anyway, hold that thought for now.
YC - Comparing projects of difference nature
YC's Startup School is going to offer in 9-ish weeks $10,000 in equity-free funding. Here are the official criteria to be eligible:
You must submit at least 9 out of your 10 weekly updates and attend 9 out of 10 group office hour sessions.
The office hours are valuable, but YC puts a lot more emphasis on the weekly updates. You'll read about it, hear about it, talk about it. The logic is simple: you need to be focused and accountable if you want to succeed. And one easy way to achieve that is to check yourself every week - that's quite similar to the experience I had in Atlassian.
But this is also an excellent way for them to compare startups (or projects) that are in different industries. They have to judge the work of thousands of companies, and figure out which ones are standing out. This situation is similar to having to compare teams inside of an organization. Your Marketing team has different problems to solve than your Engineering team, and the same for your Support team, and so on.
So once again, you need to go back to doing some basic stuff. If you ask each team to pick a goal that makes sense to them, then you can measure them on their progress. You don't need to have domain knowledge anymore.
For YC, they'll use that information to figure out who's doing great. In an organization, you'd want that information to know who needs help and to understand what projects you need to focus your attention on.
"Are we on track?" - the question powering Squadlytics
We have an incredible amount of data to work with, insane computing power in our machines, sophisticated algorithms that can identify patterns within seconds. Nevertheless, the easiest way for us to judge projects is to simply ask people.
But the way we ask this question today is pretty bad. Spreadsheets, docs and wikis don't know they need to be updated. So when things get busy at work, it's easy to forget about your goals.
So the first thing we did was to implement that logic. Squadlytics knows what needs be updated on a weekly, monthly or quarterly basis, and it will send reminders to the right people.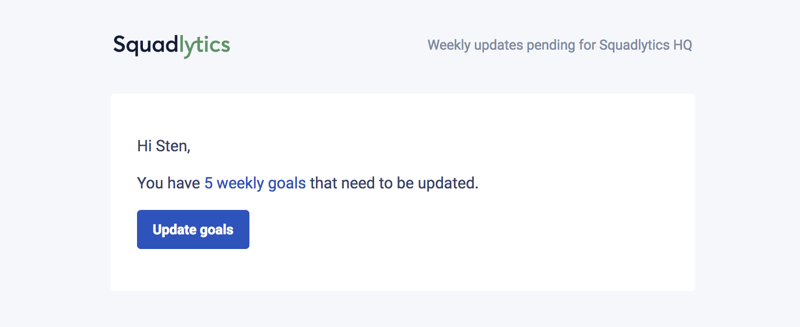 The next bit was to make these updates simple to do. You just need to say if you're on-track, at-risk or off-track, and provide a value if possible.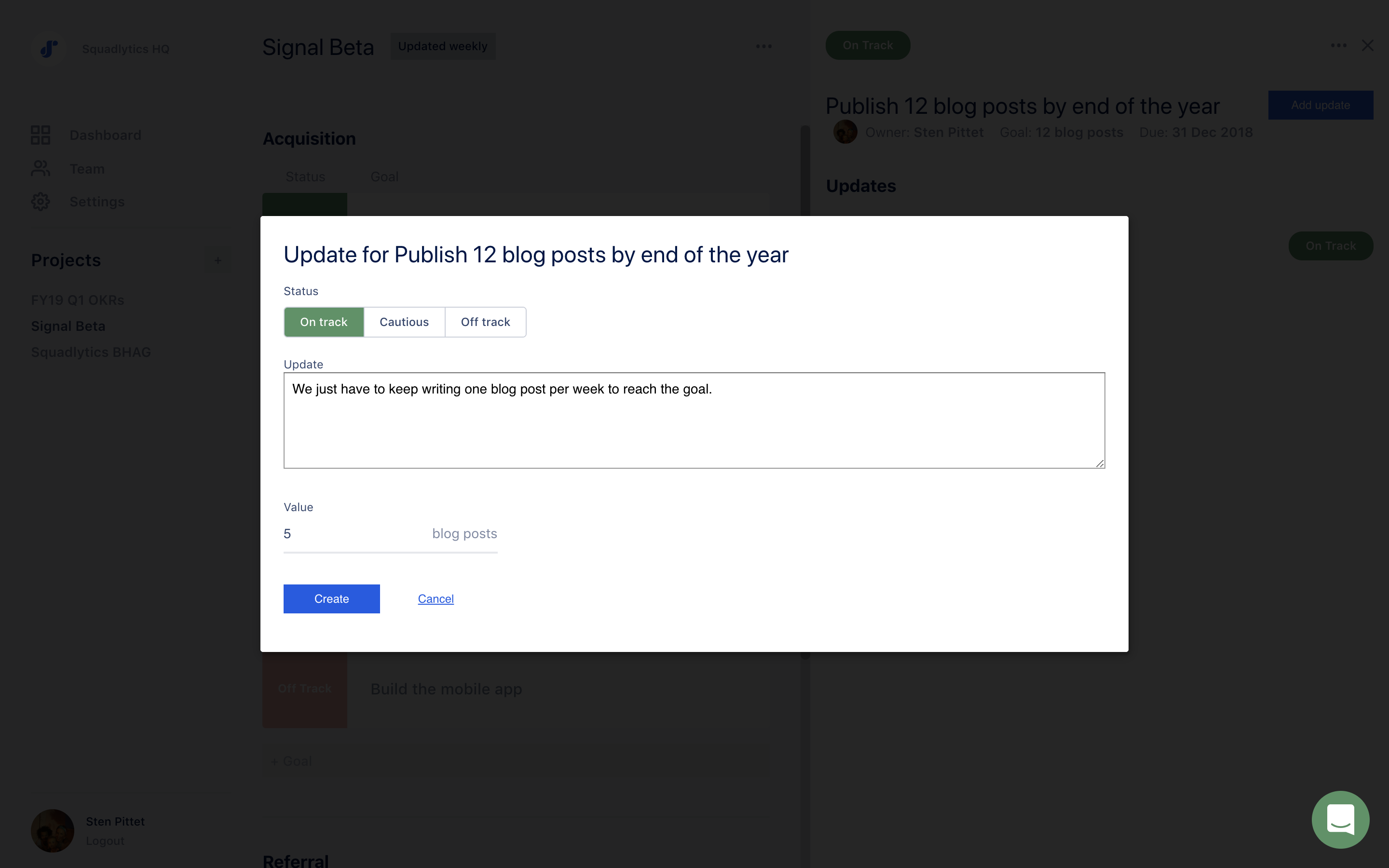 Keeping updates basic makes them easier to compare when you see them side-by-side.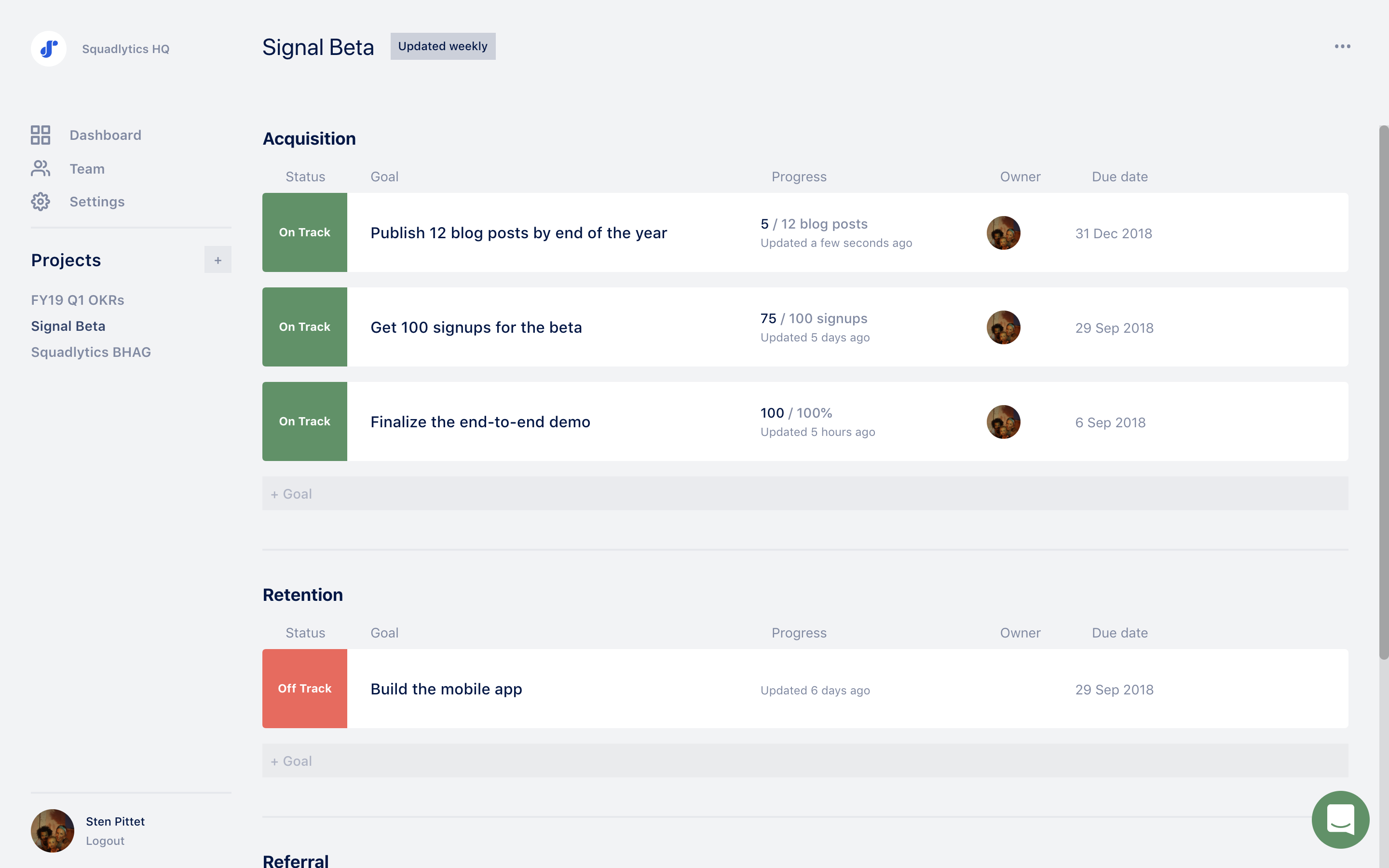 We also built a bot to make you accountable. It's a friendly one, but it will downgrade your goals if you missed on your updates.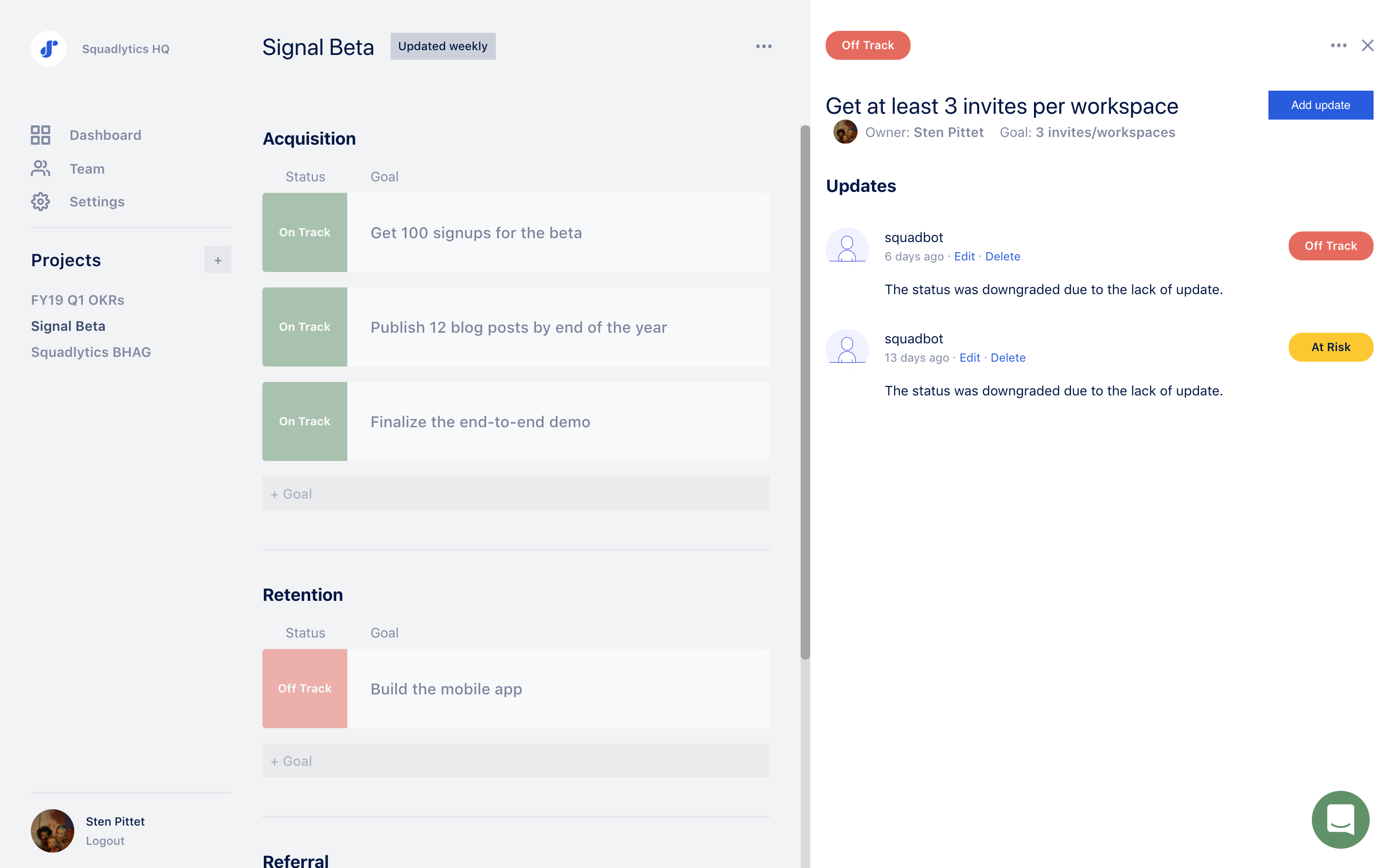 That's the core of Squadlytics: ask about progress, get the updates, and share them.
It's been unexpectedly cool for me to see YC partners and alumni talking about how important it is to measure progress because that's exactly what we want to help with.
Help us help you
So, today is a really exciting day, and that's also because we're sending the first batch of invites for our beta
If you're interested we'd be happy to get you on board and you can sign up for the beta on our website. Last but not least, feel free to send us questions and feedback at [email protected]!